Curbed Drainage Grating Scupper ตะแกรงดักขยะ ฝุ่นผงคันหินใบไม้ด้านข้างริมฟุตบาท

#ตะแกรงดักแยกขยะคันหินขอบฟุตบาทคสล #Trench Basin Scupper #Dust Screen Driveway Side Drainage Grating traffic road highway #Leaf Trapper Safe Scupper Drainage Traffic Grates along side of highway #Storm Curb Inlet Grating DrainBox Traffic Highway Side Drainage Trench Screen Grating ตะแกรงดักขยะผลิตจากเหล็กหล่อเหนียวพิเศษ (Casting Ductile Iron)
Curbed Drainage Grating Scupper Trapper Dust Scale Dirtage Grate Scrapper #Track Basin Scupper #Dust Screen Driveway Drainage Grate side of highway #Storm Curb Inlet Grating DrainBox Traffic Highway Side Drainage Trench Screen Grating Casting Ductile Iron is designed for use as The trash can separates the trash, the dust, the traps, the traps that are buried in the concrete. So water can drain down the side of the footpath. Design and manufacture of products according to the standards of the specifications of the municipality of Bangkok, Department of Public Works and Town Planning. Department of Rural Roads National Housing Authority Expressway Authority of Thailand
ออกแบบเพื่อใช้เป็น ตะแกรงดักแยกเศษขยะฝุ่นผง ดักใบไม้ เป็นตะแกรงที่ถูกฝังไว้ในคันหินคอนกรีตเสริมแรงคสล. เพื่อให้น้ำสามารถระบายลงด้านข้างริมฟุตบาท ออกแบบและผลิตชิ้นงานได้ตามมาตรฐานสเปคตามมาตรฐานของเทศบาล กทม. กรมโยธาธิการและผังเมือง กรมทางหลวงชนบท การเคหะแห่งชาติ การทางพิเศษแห่งประเทศไทย

ใบเสนอราคา ตะแกรงดักขยะฝุ่นผงคันหินใบไม้ด้านข้างริมฟุตบาท <– Click ! ดาวน์โหลดโบรชัวร์ 
Casting Ductile Iron Drive Way Curbed Scupper Drainage Grating Quotation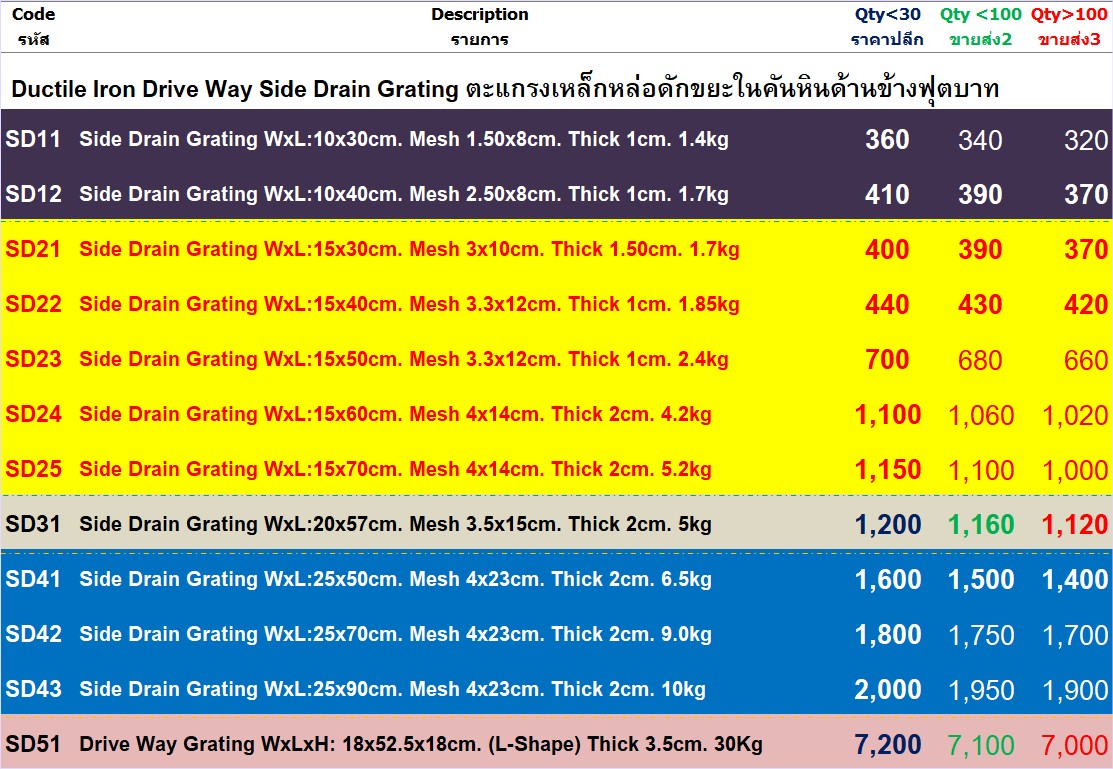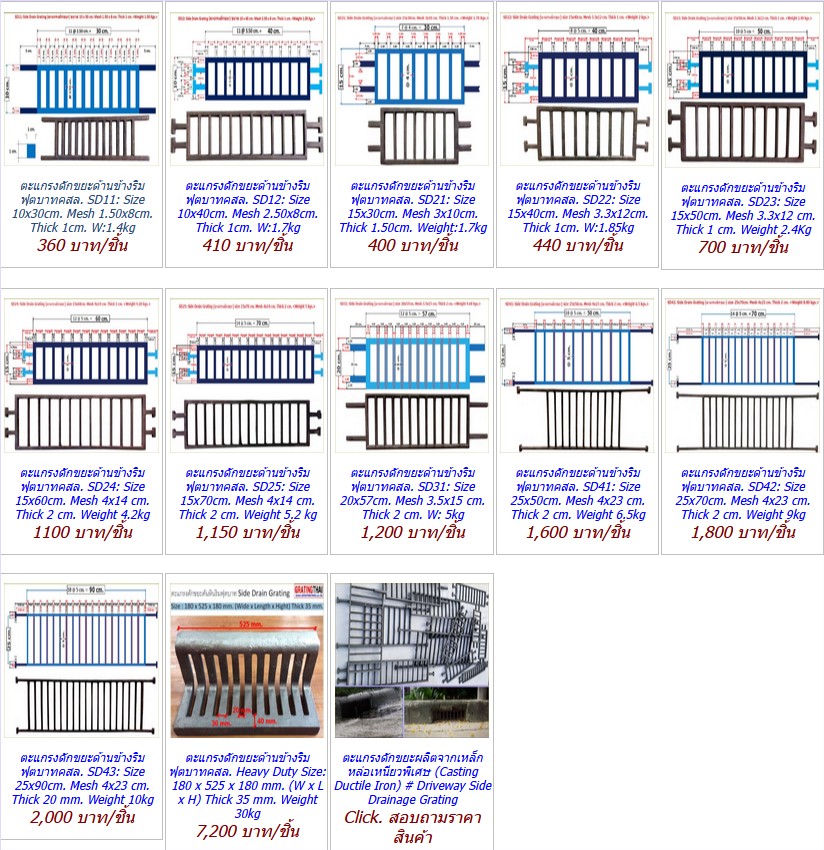 ** ราคาที่นำเสนอข้างต้น ยังไม่รวมภาษีมูลค่าเพิ่ม และค่าจัดส่ง (เป็นราคามารับเองที่โรงงาน) | Price excluded VAT and Delivery 
คุณสมบัติของตะแกรงดักขยะฝุ่นผงคันหินใบไม้ด้านข้างริมฟุตบาท Curbed Drainage Grating Scupper 
1) ตะแกรงเหล็กหล่อดักฝุ่นผงขยะ static climber drum screen grating ตะแกรงดักแยกเศษขยะลอย ตะแกรงชนิดนี้ผลิตจากเหล็กหล่อเหนียวพิเศษ (Casting Ductile Iron) ออกแบบเพื่อใช้เป็น ตะแกรงดักแยกเศษขยะ ดักใบไม้ คันหิน ด้านข้างริมฟุตบาท ขนาดมาตรฐานที่มีสต๊อคพร้อมขายทันที ได้แก่ 10x40cm., 15x30cm., 15x40cm., 20x57cm., 25x70cm., etc.
2) Drive Way Grating ตะแกรงดักขยะฝุ่นผงคันหินใบไม้ด้านข้างริมฟุตบาท (Leaf Trapper Side Highway Scupper Drainage Grating) หรือเรียกในหลากหลายชื่อว่า ฝายตะแกรงเหล็กหล่อดักฝุ่นผงเศษขยะลอย เศษอาหาร ดักใบไม้ คันหินด้านข้างริมฟุตบาท ใช้ฝังหล่อในคันหินฟุตบาทคอนกรีตเสริมแรงคสล. เพื่อป้องกันขยะลงท่อระบายน้ำสาธารณะ
3) ตะแกรงดักขยะฝุ่นผงคันหินใบไม้ด้านข้างริมฟุตบาท ออกแบบและผลิตตามสเปค มาตรฐานกรมทางหลวงชนบท เทศบาล การเคหะแห่งชาติ การทางพิเศษแห่งประเทศไทย กรมโยธาธิการและผังเมือง สำนักโยธากรุงเทพมหานคร
4) ราคาข้างต้นเป็นราคาขายส่งเข้าโครงการ กรณีสั่งซื้อจำนวนมาก กรุณาขอราคาพิเศษโดยติดต่อฝ่ายขาย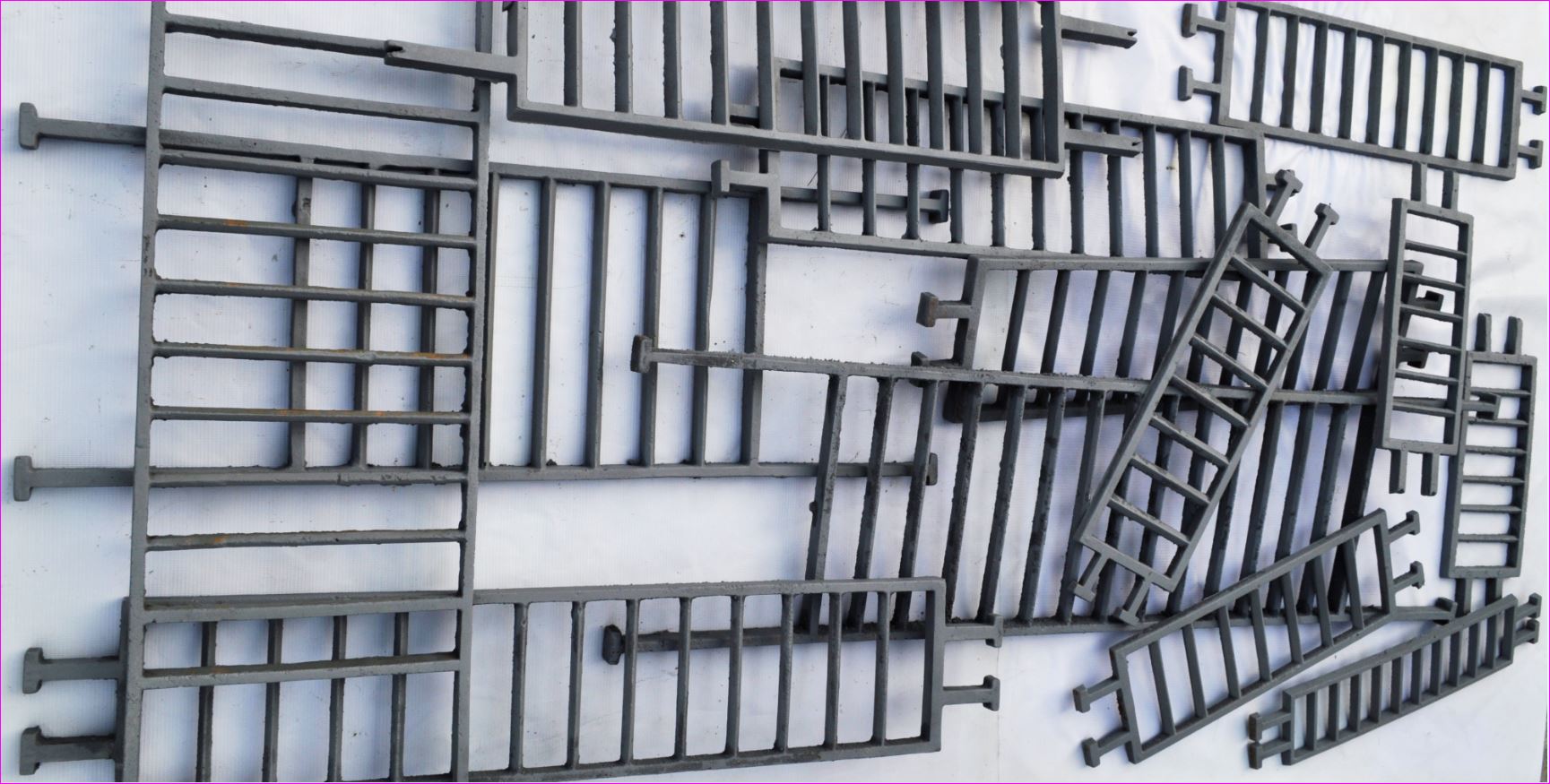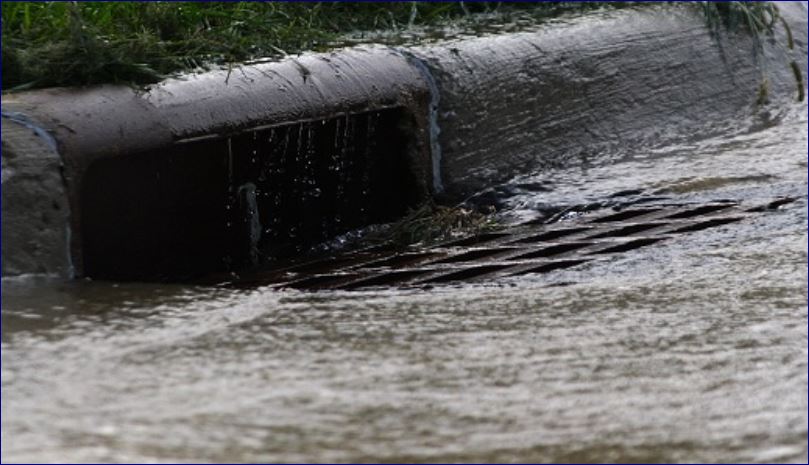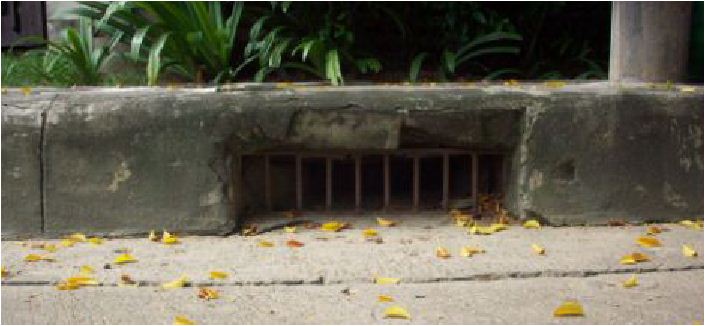 ---
Curbed Drainage Grates Scupper Specification | ขนาดและรายละเอียดสินค้า ตะแกรงดักแยกขยะในคันหินด้านข้างฟุตบาท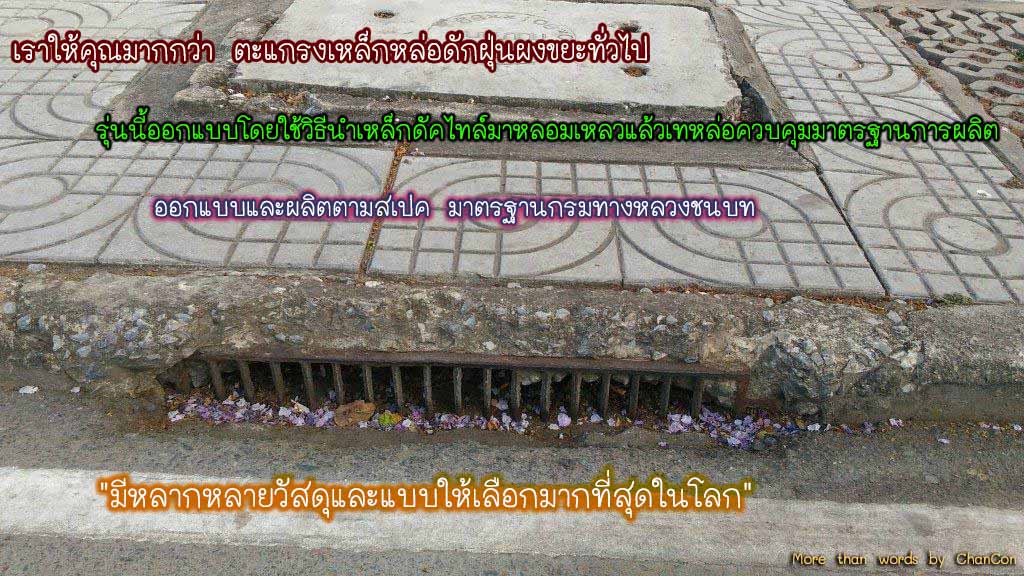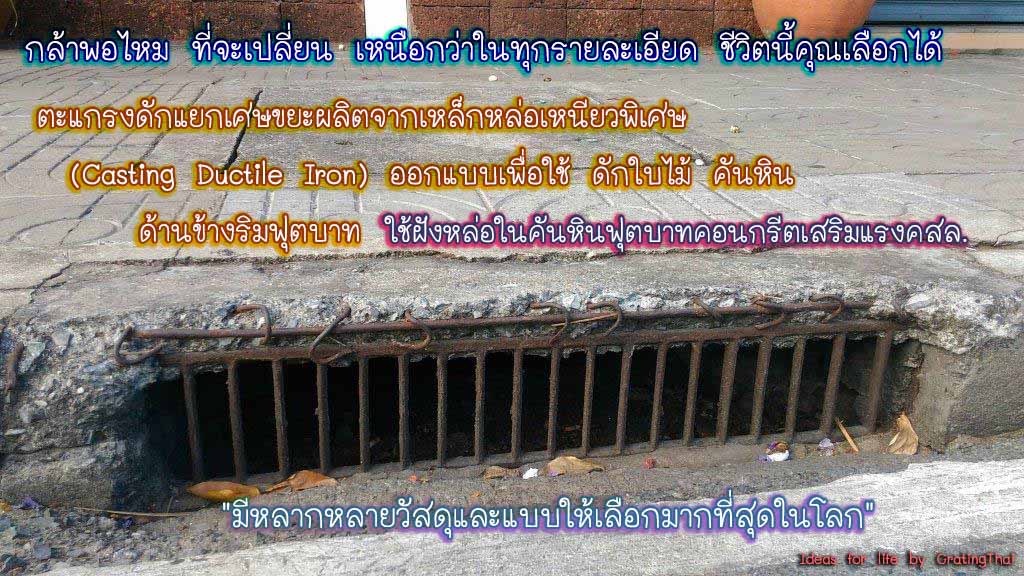 SD11: Size 10x30cm. Mesh 1.50x8cm. Thick 1cm. Weight:1.5kg Curbed Drainage Grating Scupper ตะแกรงดักแยกขยะข้างริมฟุตบาท
Curbed Drainage Grating Scupper ตะแกรงดักขยะฝุ่นผงคันหินใบไม้ด้านข้างริมฟุตบาท #ตะแกรงดักแยกขยะคันหินขอบฟุตบาทคสล #Trench Basin Scupper #Dust Screen Driveway Side Drainage Grating traffic road highway #Leaf Trapper Safe Scupper Drainage Traffic Grates along side of highway #Storm Curb Inlet Grating DrainBox Traffic Highway Side Drainage Trench Screen Grating Storm Curb Inlet Grating DrainBox Traffic Highway Side Drainage Trench Screen Grating ตะแกรงดักขยะผลิตจากเหล็กหล่อเหนียวพิเศษ (Casting Ductile Iron) ออกแบบเพื่อใช้เป็น ตะแกรงดักแยกเศษขยะฝุ่นผง ดักใบไม้ เป็นตะแกรงที่ถูกฝังไว้ในคันหินคอนกรีตเสริมแรงคสล. เพื่อให้น้ำสามารถระบายลงด้านข้างริมฟุตบาท
Side Curbed Drainage Driveway Grating Trench basin Dust screen side traffic road highway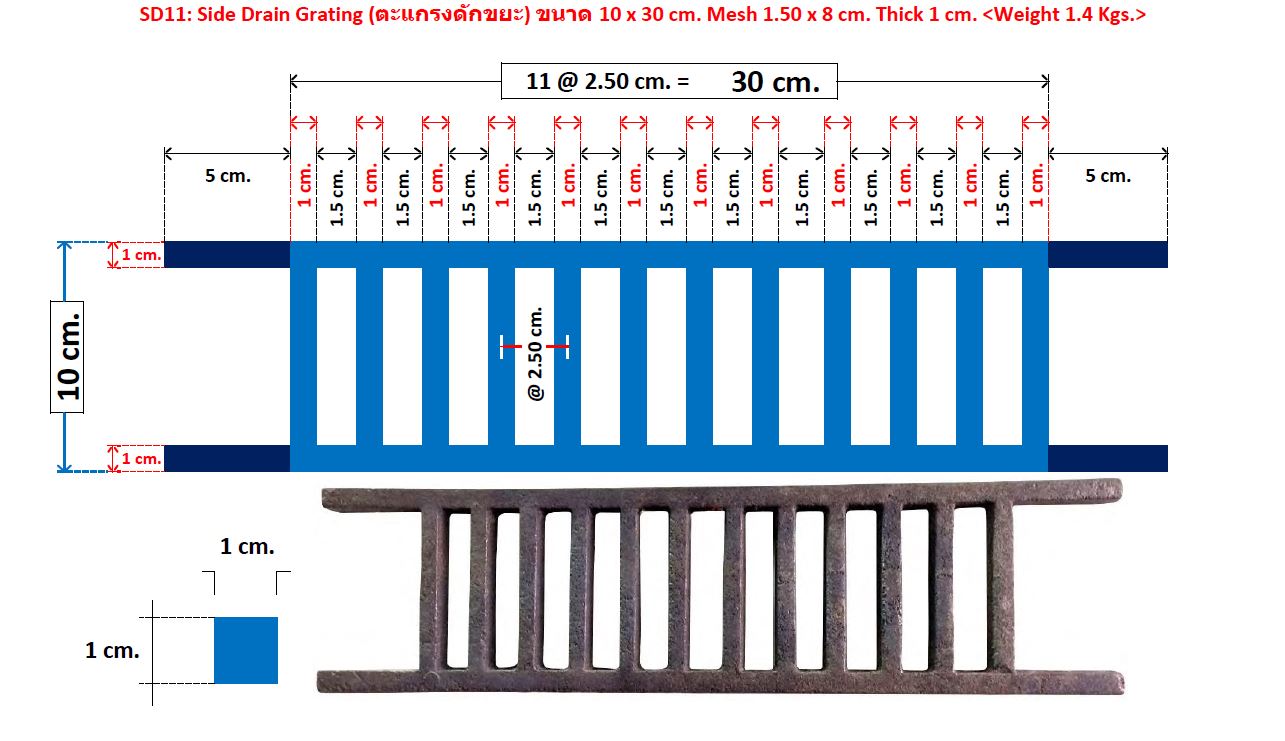 Curbed Drainage Grating Scupper Made of sticky cast iron. Wipe the sieve, separate the waste debris into the drain at the foot of the foot. Trash dust, sludge, food waste, paper leaves, stone rods, grate boxes Sidewalk, sidewalk, standard specification of the municipality Department of Public Works and Town Planning Department of Rural Roads National Housing Authority Expressway Authority of Thailand
Curbed Drainage Grating Scupper ตะแกรงดักขยะฝุ่นผงคันหินใบไม้ด้านข้างริมฟุตบาท ผลิตจากเหล็กหล่อเหนียว ฝายตะแกรงหวีดักแยกเศษขยะลอยใส่ช่องระบายน้ำตรงขอบฟุตบาท ดักฝุ่นผงตะกอนขยะ เศษอาหาร ใบไม้ กระดาษ คันหินกล่องช่องตะแกรงรับน้ำ รางยูด้านข้างริมฟุตบาท, สเปคตามมาตรฐานของเทศบาล กรมโยธาธิการและผังเมือง กรมทางหลวงชนบท การเคหะแห่งชาติ การทางพิเศษแห่งประเทศไทย
---
Top Sell #1 SD12: ตะแกรงดักขยะคันหิน ขนาด 10x40cm.
Size 10x40cm. Mesh 2.50x8cm. Thick 1cm. W:1.5kg
Side Curbed Drainage Driveway Grating Trench basin Dust screen side traffic road highway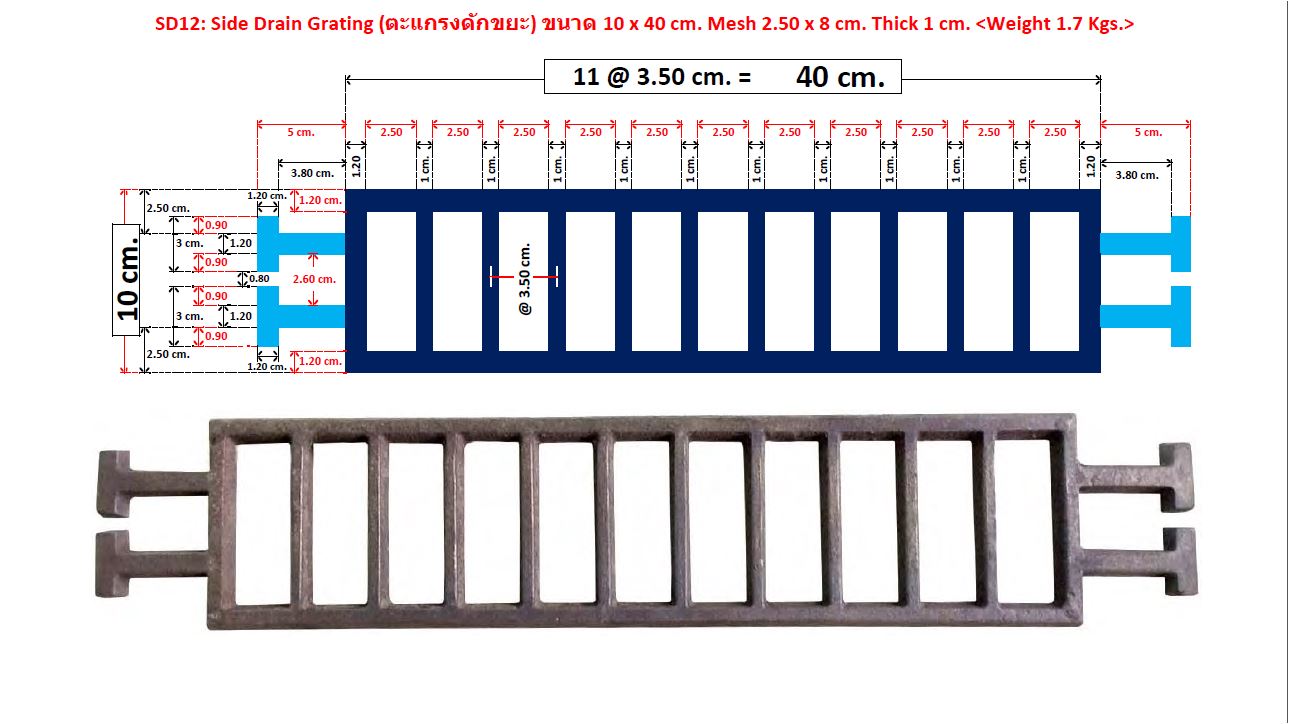 Wipe the sieve, separate the waste debris into the drain at the foot of the foot. Trash dust, sludge, food waste, paper leaves, stone rods, grate boxes Sidewalk, sidewalk, standard specification of the municipality Department of Public Works and Town Planning Department of Rural Roads National Housing Authority Expressway Authority of Thailand
ฝายตะแกรงหวีดักแยกเศษขยะลอยใส่ช่องระบายน้ำตรงขอบฟุตบาท ดักฝุ่นผงตะกอนขยะ เศษอาหาร ใบไม้ กระดาษ คันหินกล่องช่องตะแกรงรับน้ำ รางยูด้านข้างริมฟุตบาท, สเปคตามมาตรฐานของเทศบาล กรมโยธาธิการและผังเมือง กรมทางหลวงชนบท การเคหะแห่งชาติ การทางพิเศษแห่งประเทศไทย
---
Top Sell #2 SD21: ตะแกรงดักขยะคันหิน ขนาด 15x30cm.
Size 15x30cm. Mesh 3x10cm. Thick 1.50cm. W:1.7kg
Side Curbed Drainage Driveway Grating Trench basin Dust screen side traffic road highway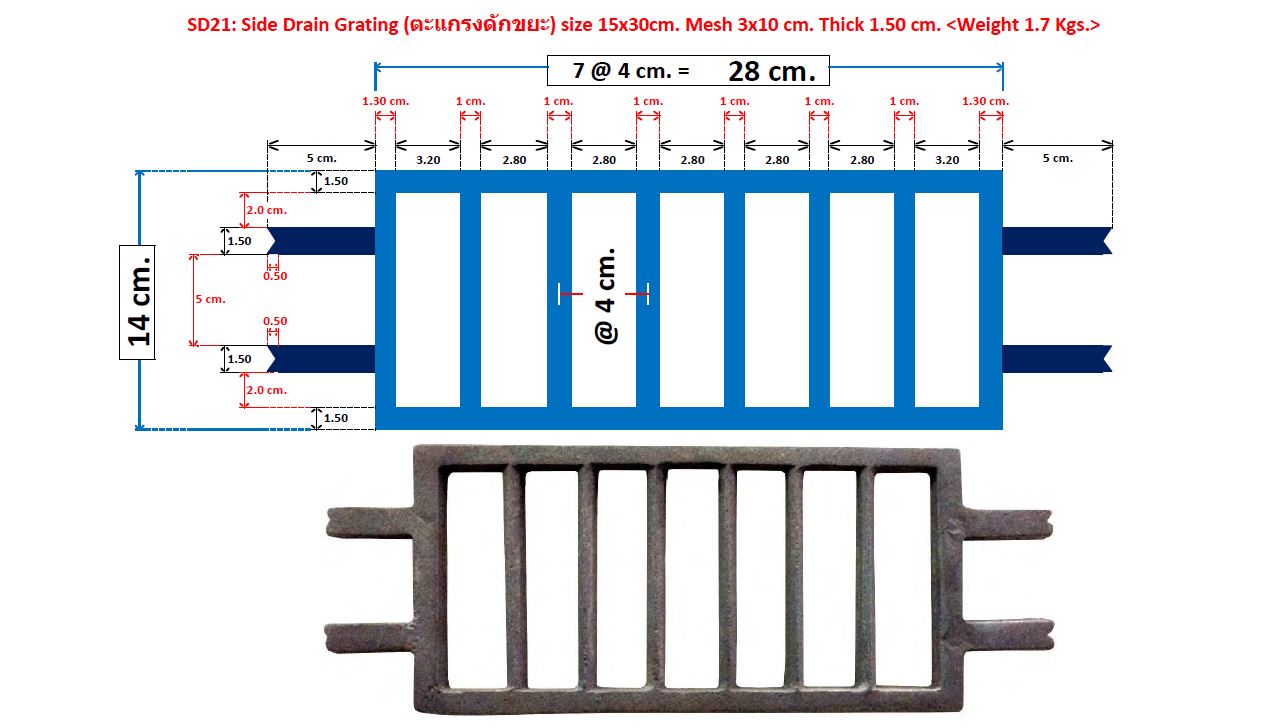 Curbed Drainage Grating Scupper Wipe the sieve, separate the waste debris into the drain at the foot of the foot. Trash dust, sludge, food waste, paper leaves, stone rods, grate boxes Sidewalk, sidewalk, standard specification of the municipality Department of Public Works and Town Planning Department of Rural Roads National Housing Authority Expressway Authority of Thailand
Curbed Drainage Grating Scupper ตะแกรงดักขยะฝุ่นผงคันหินใบไม้ด้านข้างริมฟุตบาท ฝายตะแกรงหวีดักแยกเศษขยะลอยใส่ช่องระบายน้ำตรงขอบฟุตบาท ดักฝุ่นผงตะกอนขยะ เศษอาหาร ใบไม้ กระดาษ คันหินกล่องช่องตะแกรงรับน้ำ รางยูด้านข้างริมฟุตบาท, สเปคตามมาตรฐานของเทศบาล กรมโยธาธิการและผังเมือง กรมทางหลวงชนบท การเคหะแห่งชาติ การทางพิเศษแห่งประเทศไทย
---
Top Sell #3 SD22: ตะแกรงดักขยะคันหิน ขนาด 15x40cm.
Size 15x40cm. Mesh 3.3x12cm. Thick 1cm. W:2kg
Side Curbed Drainage Driveway Grating Trench basin Dust screen side traffic road highway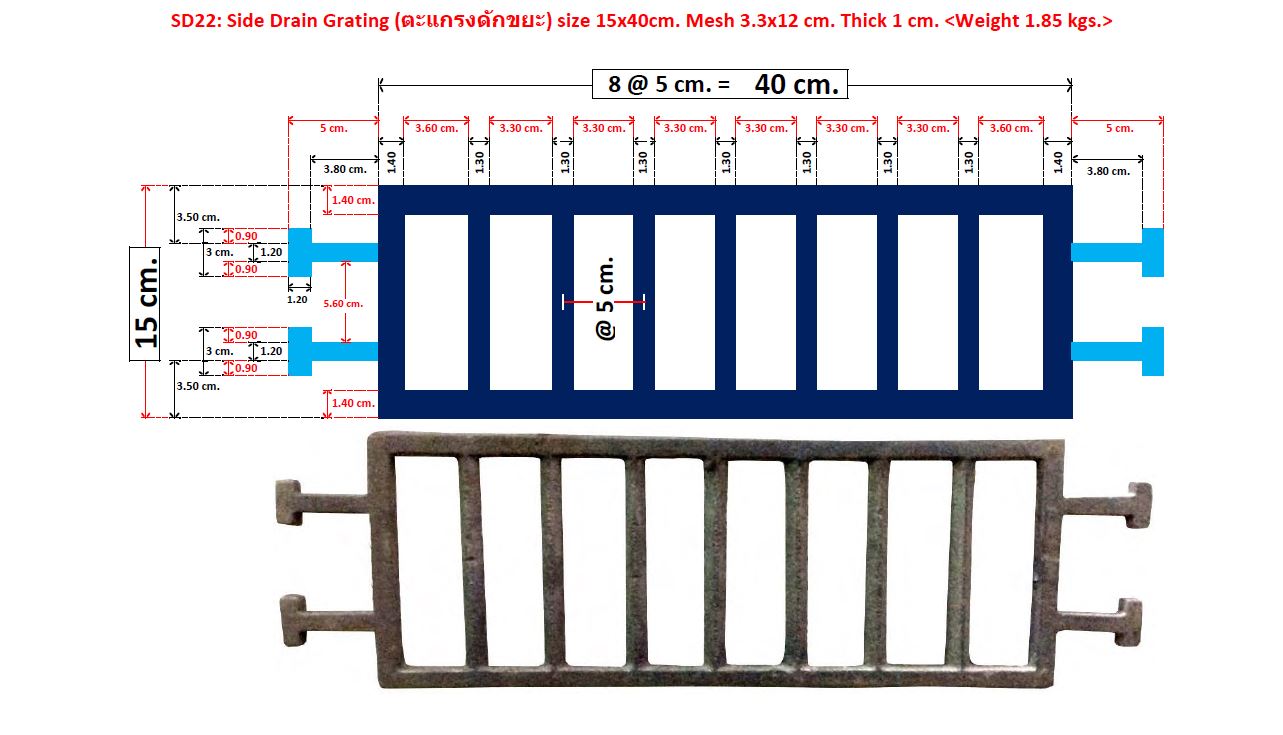 Wipe the sieve, separate the waste debris into the drain at the foot of the foot. Trash dust, sludge, food waste, paper leaves, stone rods, grate boxes Sidewalk, sidewalk, standard specification of the municipality Department of Public Works and Town Planning Department of Rural Roads National Housing Authority Expressway Authority of Thailand
ฝายตะแกรงหวีดักแยกเศษขยะลอยใส่ช่องระบายน้ำตรงขอบฟุตบาท ดักฝุ่นผงตะกอนขยะ เศษอาหาร ใบไม้ กระดาษ คันหินกล่องช่องตะแกรงรับน้ำ รางยูด้านข้างริมฟุตบาท, สเปคตามมาตรฐานของเทศบาล กรมโยธาธิการและผังเมือง กรมทางหลวงชนบท การเคหะแห่งชาติ การทางพิเศษแห่งประเทศไทย
---
SD23: Curbed Drainage Grates Scupper ตะแกรงดักแยกขยะในคันหินข้างริมฟุตบาท
Size 15x50cm. Mesh 3.3×12 cm. Thick 1 cm. Weight 2.4kg
Side Curbed Drainage Driveway Grating Trench basin Dust screen side traffic road highway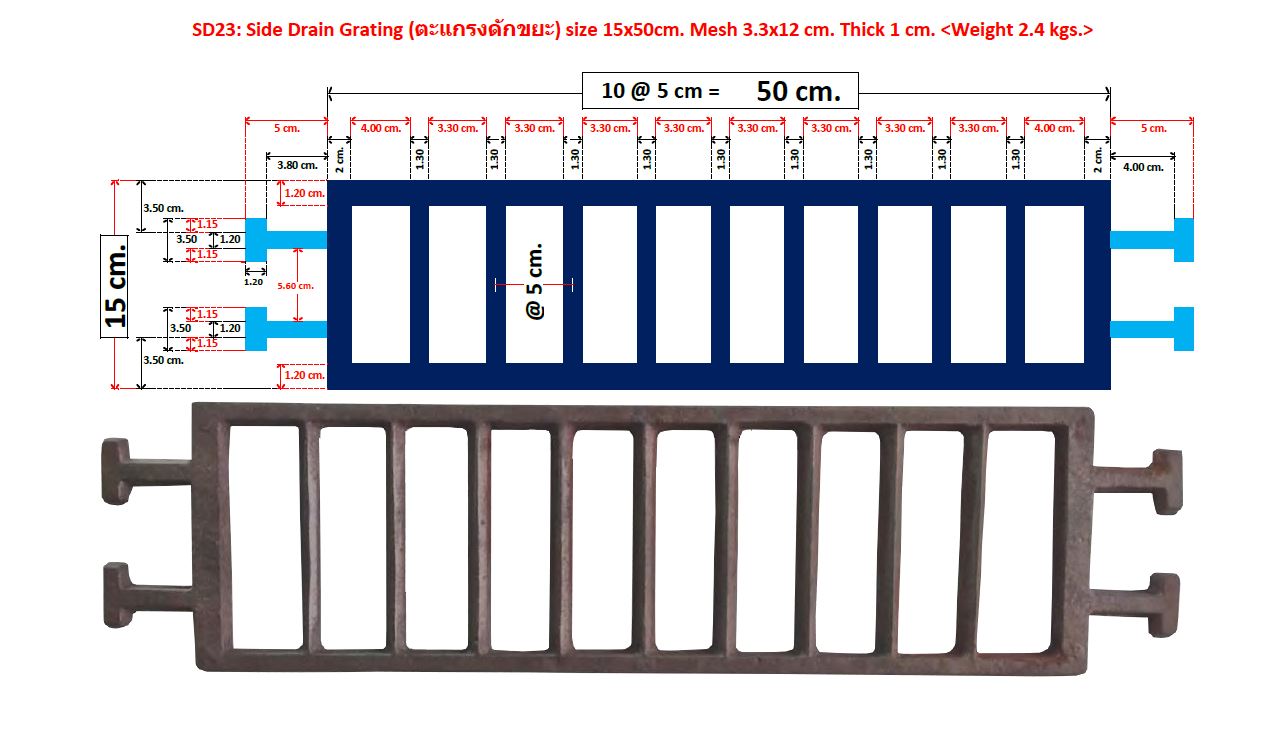 Curbed Drainage Grating Scupper Made of sticky cast iron. Wipe the sieve, separate the waste debris into the drain at the foot of the foot. Trash dust, sludge, food waste, paper leaves, stone rods, grate boxes Sidewalk, sidewalk, standard specification of the municipality Department of Public Works and Town Planning Department of Rural Roads National Housing Authority Expressway Authority of Thailand
Curbed Drainage Grating Scupper ตะแกรงดักขยะฝุ่นผงคันหินใบไม้ด้านข้างริมฟุตบาท ผลิตจากเหล็กหล่อเหนียว ฝายตะแกรงหวีดักแยกเศษขยะลอยใส่ช่องระบายน้ำตรงขอบฟุตบาท ดักฝุ่นผงตะกอนขยะ เศษอาหาร ใบไม้ กระดาษ คันหินกล่องช่องตะแกรงรับน้ำ รางยูด้านข้างริมฟุตบาท, สเปคตามมาตรฐานของเทศบาล กรมโยธาธิการและผังเมือง กรมทางหลวงชนบท การเคหะแห่งชาติ การทางพิเศษแห่งประเทศไทย
---
SD24: Curbed Drainage Grates Scupper ตะแกรงดักแยกขยะในคันหินข้างริมฟุตบาท
Size 15x60cm. Mesh 4×14 cm. Thick 2 cm. Weight 4.2 kg
Side Curbed Drainage Driveway Grating Trench basin Dust screen side traffic road highway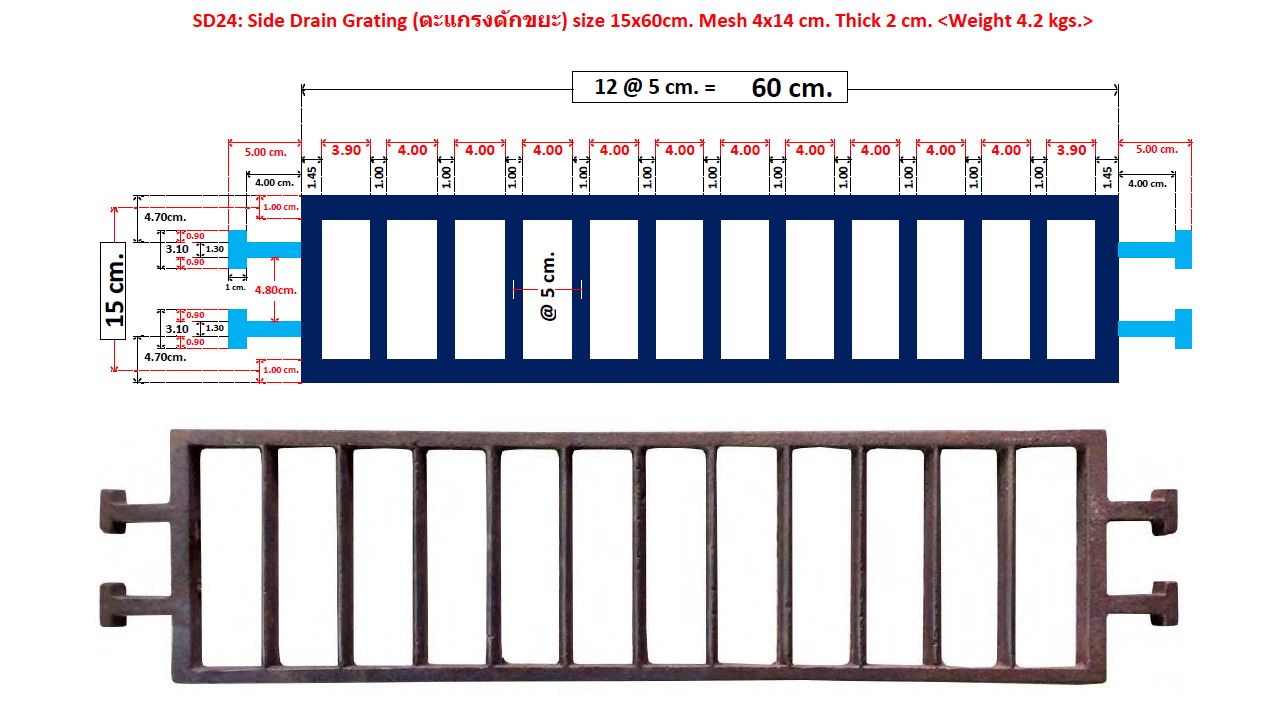 Made of sticky cast iron. Wipe the sieve, separate the waste debris into the drain at the foot of the foot. Trash dust, sludge, food waste, paper leaves, stone rods, grate boxes Sidewalk, sidewalk, standard specification of the municipality Department of Public Works and Town Planning Department of Rural Roads National Housing Authority Expressway Authority of Thailand
ผลิตจากเหล็กหล่อเหนียว ฝายตะแกรงหวีดักแยกเศษขยะลอยใส่ช่องระบายน้ำตรงขอบฟุตบาท ดักฝุ่นผงตะกอนขยะ เศษอาหาร ใบไม้ กระดาษ คันหินกล่องช่องตะแกรงรับน้ำ รางยูด้านข้างริมฟุตบาท, สเปคตามมาตรฐานของเทศบาล กรมโยธาธิการและผังเมือง กรมทางหลวงชนบท การเคหะแห่งชาติ การทางพิเศษแห่งประเทศไทย
---
SD25: Curbed Drainage Grates Scupper ตะแกรงดักแยกขยะในคันหินข้างริมฟุตบาท
Size 15x70cm. Mesh 4×14 cm. Thick 2 cm. Weight 5 kg
Side Curbed Drainage Driveway Grating Trench basin Dust screen side traffic road highway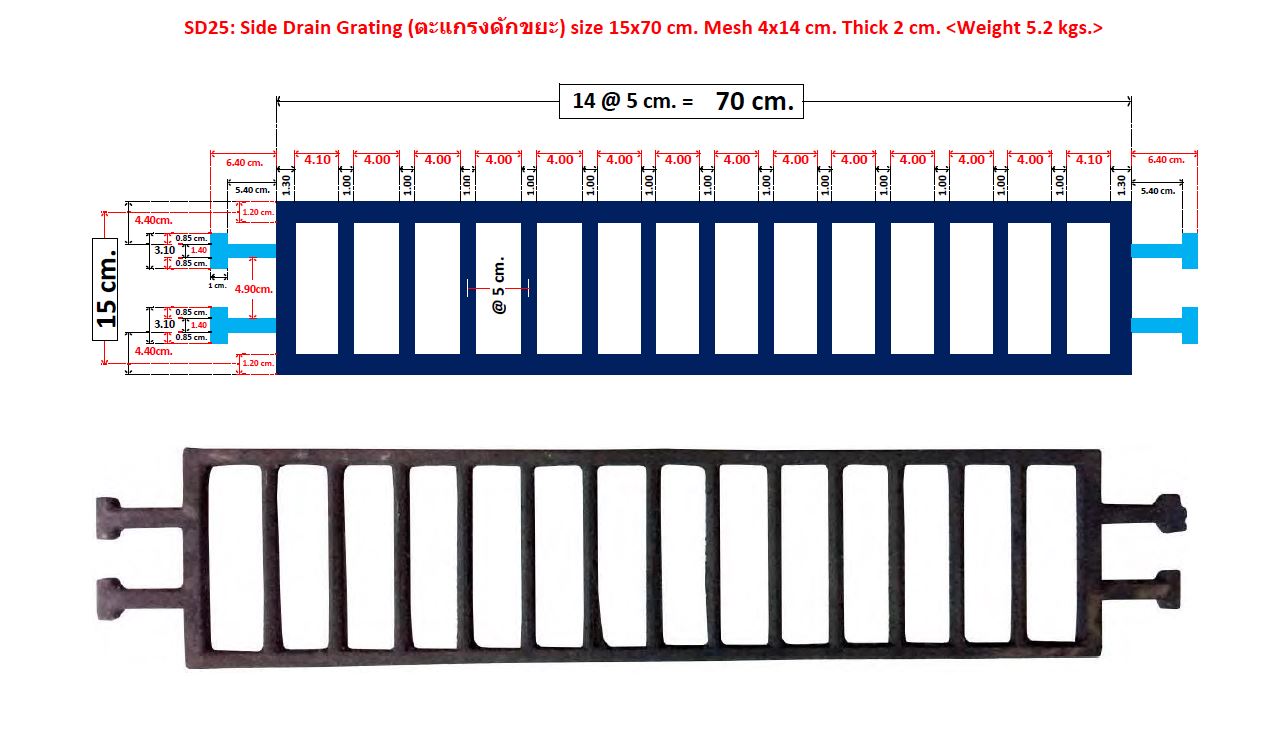 Curbed Drainage Grating Scupper Made of sticky cast iron. Wipe the sieve, separate the waste debris into the drain at the foot of the foot. Trash dust, sludge, food waste, paper leaves, stone rods, grate boxes Sidewalk, sidewalk, standard specification of the municipality Department of Public Works and Town Planning Department of Rural Roads National Housing Authority Expressway Authority of Thailand
Curbed Drainage Grating Scupper ตะแกรงดักขยะฝุ่นผงคันหินใบไม้ด้านข้างริมฟุตบาท ผลิตจากเหล็กหล่อเหนียว ฝายตะแกรงหวีดักแยกเศษขยะลอยใส่ช่องระบายน้ำตรงขอบฟุตบาท ดักฝุ่นผงตะกอนขยะ เศษอาหาร ใบไม้ กระดาษ คันหินกล่องช่องตะแกรงรับน้ำ รางยูด้านข้างริมฟุตบาท, สเปคตามมาตรฐานของเทศบาล กรมโยธาธิการและผังเมือง กรมทางหลวงชนบท การเคหะแห่งชาติ การทางพิเศษแห่งประเทศไทย
---
SD31: Curbed Drainage Grates Scupper ตะแกรงดักแยกขยะในคันหินข้างริมฟุตบาท
Size 20x57cm. Mesh 3.5×15 cm. Thick 2 cm. Weight 4.6 kg
Side Curbed Drainage Driveway Grating Trench basin Dust screen side traffic road highway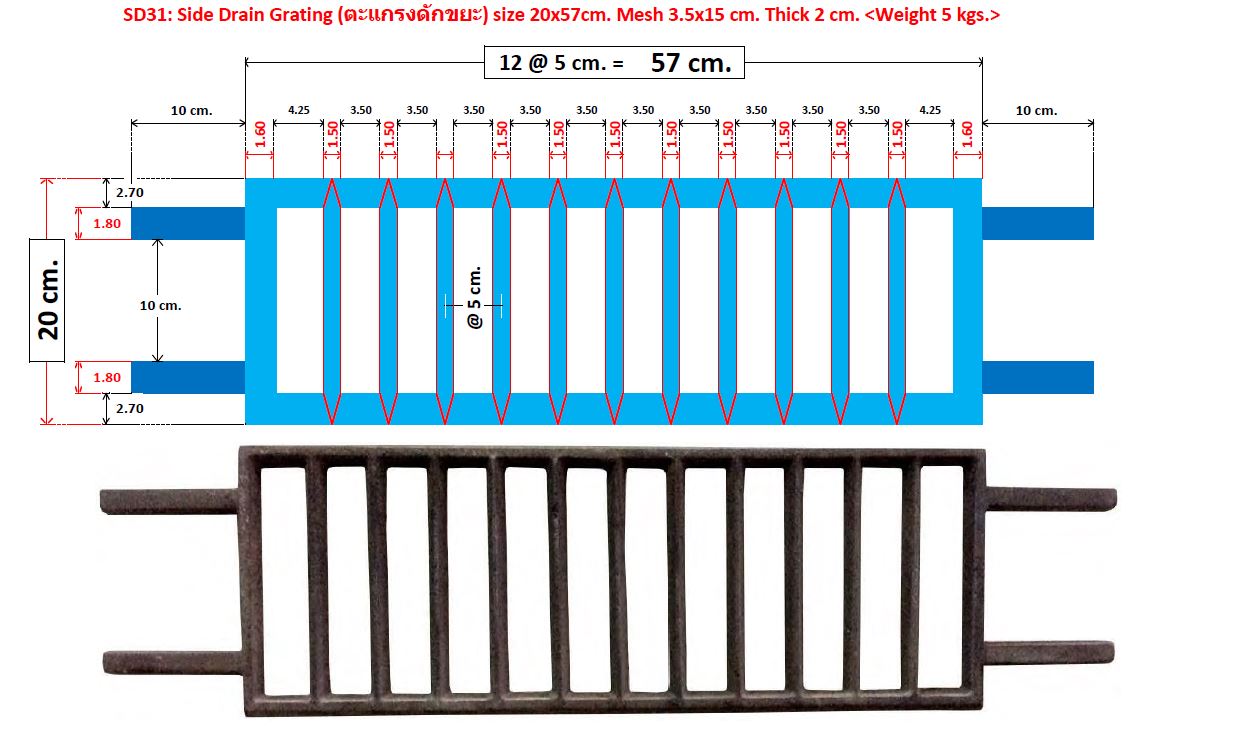 Made of sticky cast iron. Wipe the sieve, separate the waste debris into the drain at the foot of the foot. Trash dust, sludge, food waste, paper leaves, stone rods, grate boxes Sidewalk, sidewalk, standard specification of the municipality Department of Public Works and Town Planning Department of Rural Roads National Housing Authority Expressway Authority of Thailand
ผลิตจากเหล็กหล่อเหนียว ฝายตะแกรงหวีดักแยกเศษขยะลอยใส่ช่องระบายน้ำตรงขอบฟุตบาท ดักฝุ่นผงตะกอนขยะ เศษอาหาร ใบไม้ กระดาษ คันหินกล่องช่องตะแกรงรับน้ำ รางยูด้านข้างริมฟุตบาท, สเปคตามมาตรฐานของเทศบาล กรมโยธาธิการและผังเมือง กรมทางหลวงชนบท การเคหะแห่งชาติ การทางพิเศษแห่งประเทศไทย
---
SD41: Curbed Drainage Grates Scupper ตะแกรงดักแยกขยะในคันหินข้างริมฟุตบาท
Size 25x50cm. Mesh 4×23 cm. Thick 2 cm. Weight 6.5kg
Side Curbed Drainage Driveway Grating Trench basin Dust screen side traffic road highway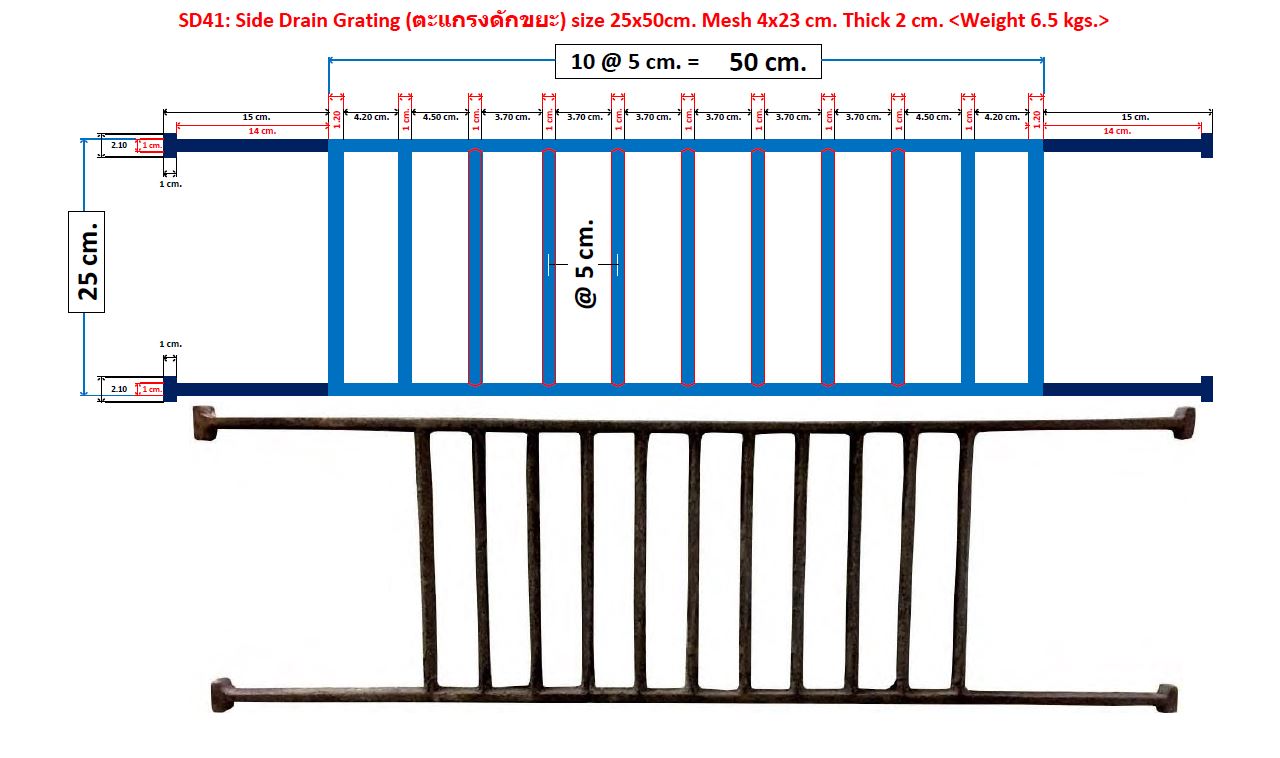 Curbed Drainage Grating Scupper Made of sticky cast iron. Wipe the sieve, separate the waste debris into the drain at the foot of the foot. Trash dust, sludge, food waste, paper leaves, stone rods, grate boxes Sidewalk, sidewalk, standard specification of the municipality Department of Public Works and Town Planning Department of Rural Roads National Housing Authority Expressway Authority of Thailand
Curbed Drainage Grating Scupper ตะแกรงดักขยะฝุ่นผงคันหินใบไม้ด้านข้างริมฟุตบาท ผลิตจากเหล็กหล่อเหนียว ฝายตะแกรงหวีดักแยกเศษขยะลอยใส่ช่องระบายน้ำตรงขอบฟุตบาท ดักฝุ่นผงตะกอนขยะ เศษอาหาร ใบไม้ กระดาษ คันหินกล่องช่องตะแกรงรับน้ำ รางยูด้านข้างริมฟุตบาท, สเปคตามมาตรฐานของเทศบาล กรมโยธาธิการและผังเมือง กรมทางหลวงชนบท การเคหะแห่งชาติ การทางพิเศษแห่งประเทศไทย
---
SD42: Curbed Drainage Grates Scupper ตะแกรงดักแยกขยะในคันหินข้างริมฟุตบาท
Size 25x70cm. Mesh 4×23 cm. Thick 2 cm. Weight 8.8kg
Side Curbed Drainage Driveway Grating Trench basin Dust screen side traffic road highway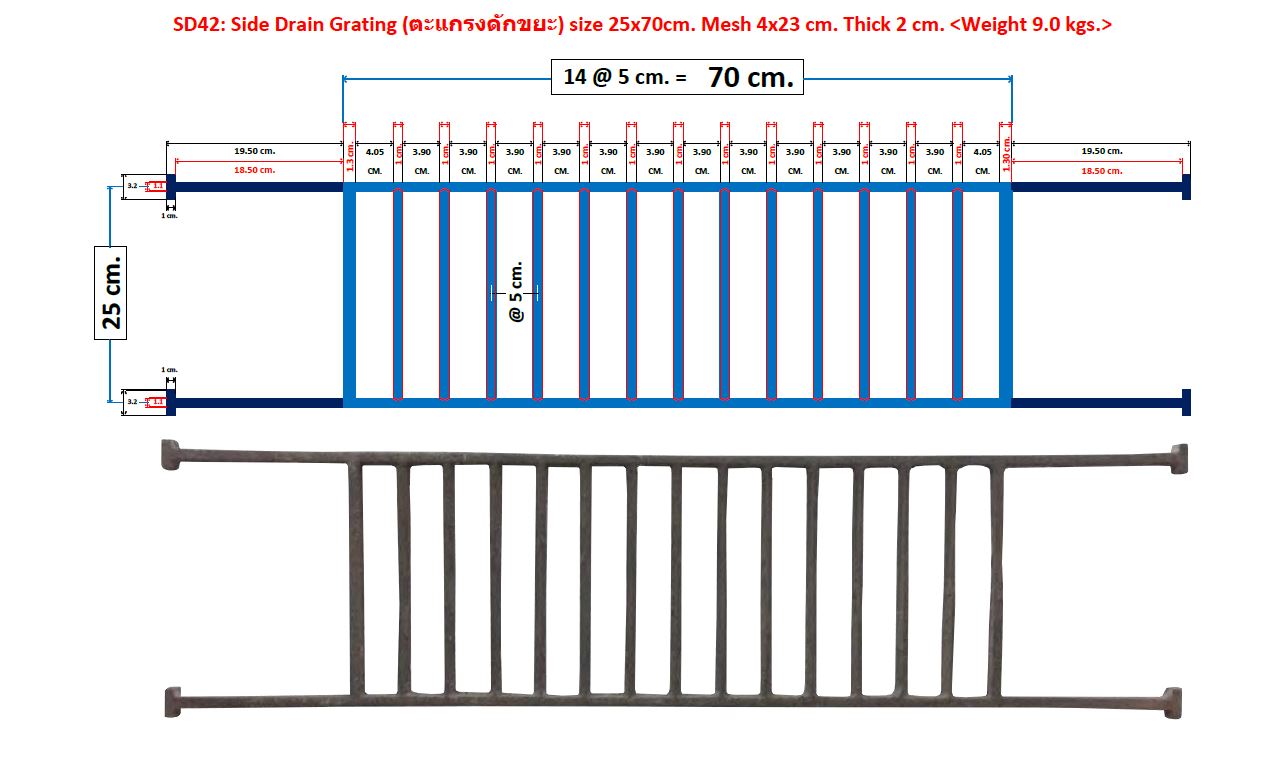 Made of sticky cast iron. Wipe the sieve, separate the waste debris into the drain at the foot of the foot. Trash dust, sludge, food waste, paper leaves, stone rods, grate boxes Sidewalk, sidewalk, standard specification of the municipality Department of Public Works and Town Planning Department of Rural Roads National Housing Authority Expressway Authority of Thailand
ผลิตจากเหล็กหล่อเหนียว ฝายตะแกรงหวีดักแยกเศษขยะลอยใส่ช่องระบายน้ำตรงขอบฟุตบาท ดักฝุ่นผงตะกอนขยะ เศษอาหาร ใบไม้ กระดาษ คันหินกล่องช่องตะแกรงรับน้ำ รางยูด้านข้างริมฟุตบาท, สเปคตามมาตรฐานของเทศบาล กรมโยธาธิการและผังเมือง กรมทางหลวงชนบท การเคหะแห่งชาติ การทางพิเศษแห่งประเทศไทย
---
SD43: Curbed Drainage Grates Scupper ตะแกรงดักแยกขยะในคันหินข้างริมฟุตบาท
Size 25x90cm. Mesh 4×23 cm. Thick 20 mm. Weight 9.5kg
Side Curbed Drainage Driveway Grating Trench basin Dust screen side traffic road highway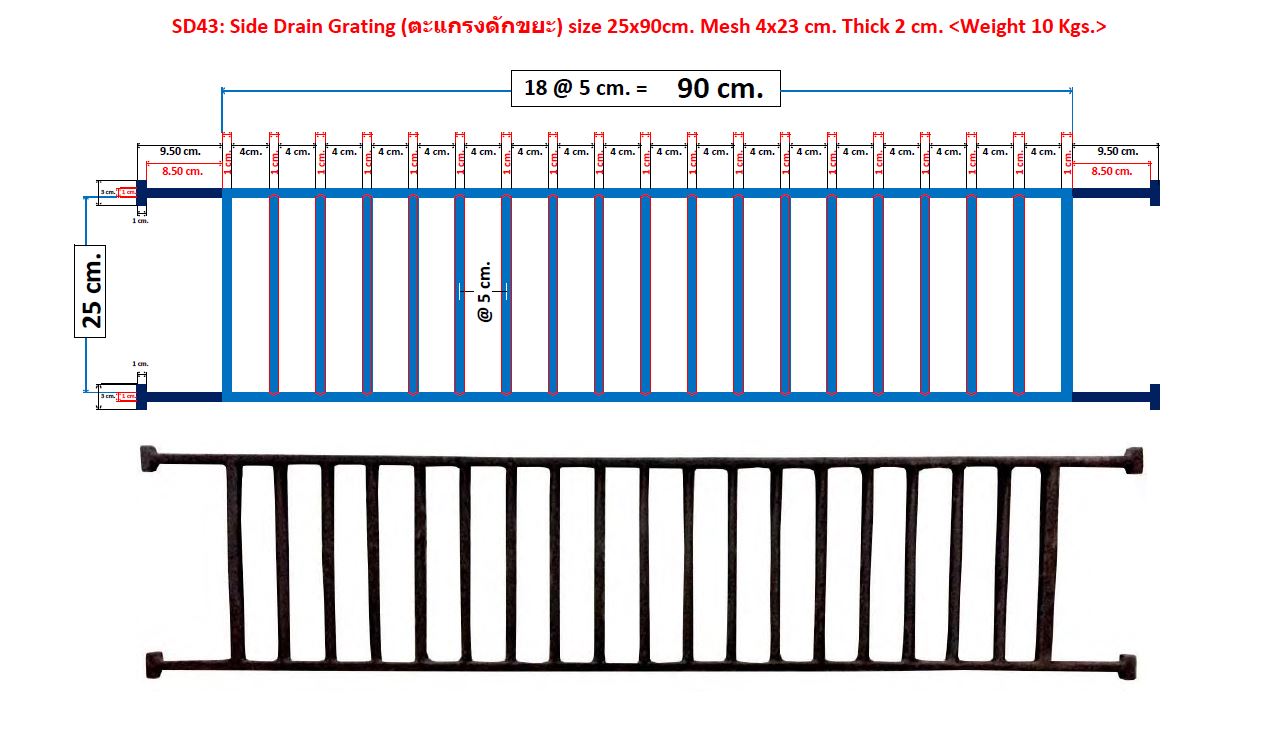 Curbed Drainage Grating Scupper Made of sticky cast iron. Wipe the sieve, separate the waste debris into the drain at the foot of the foot. Trash dust, sludge, food waste, paper leaves, stone rods, grate boxes Sidewalk, sidewalk, standard specification of the municipality Department of Public Works and Town Planning Department of Rural Roads National Housing Authority Expressway Authority of Thailand
Curbed Drainage Grating Scupper ตะแกรงดักขยะฝุ่นผงคันหินใบไม้ด้านข้างริมฟุตบาท ผลิตจากเหล็กหล่อเหนียว ฝายตะแกรงหวีดักแยกเศษขยะลอยใส่ช่องระบายน้ำตรงขอบฟุตบาท ดักฝุ่นผงตะกอนขยะ เศษอาหาร ใบไม้ กระดาษ คันหินกล่องช่องตะแกรงรับน้ำ รางยูด้านข้างริมฟุตบาท, สเปคตามมาตรฐานของเทศบาล กรมโยธาธิการและผังเมือง กรมทางหลวงชนบท การเคหะแห่งชาติ การทางพิเศษแห่งประเทศไทย
---
Side Curbed Drainage Driveway Grating (ตะแกรงดักขยะรุ่นหนาพิเศษ)
Size : 180 x 525 x 180 mm. (Wide x Length x Hight) Thick 35 mm.
Side Curbed Drainage Driveway Grating Trench basin Dust screen side traffic road highway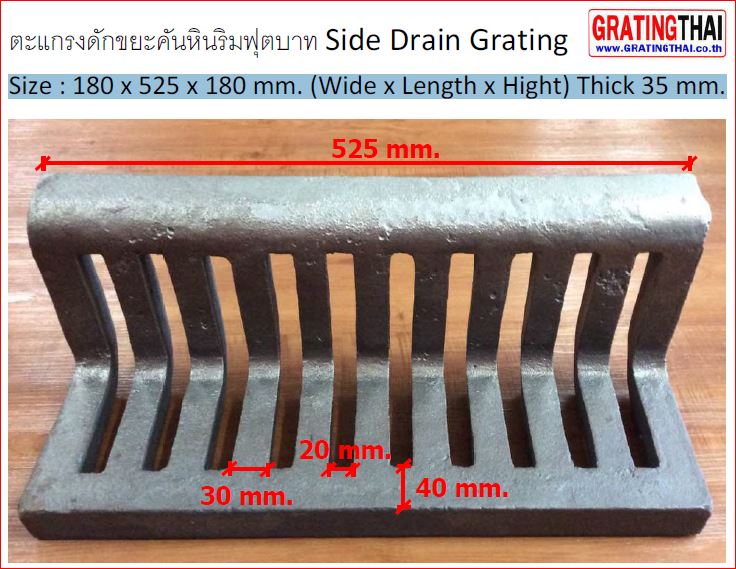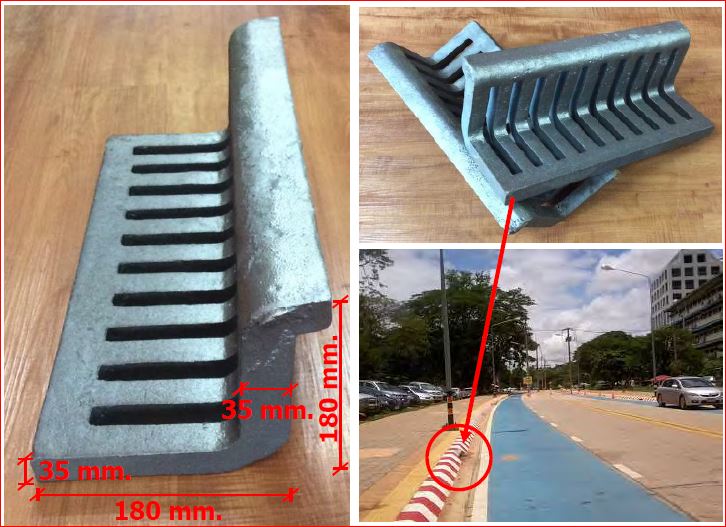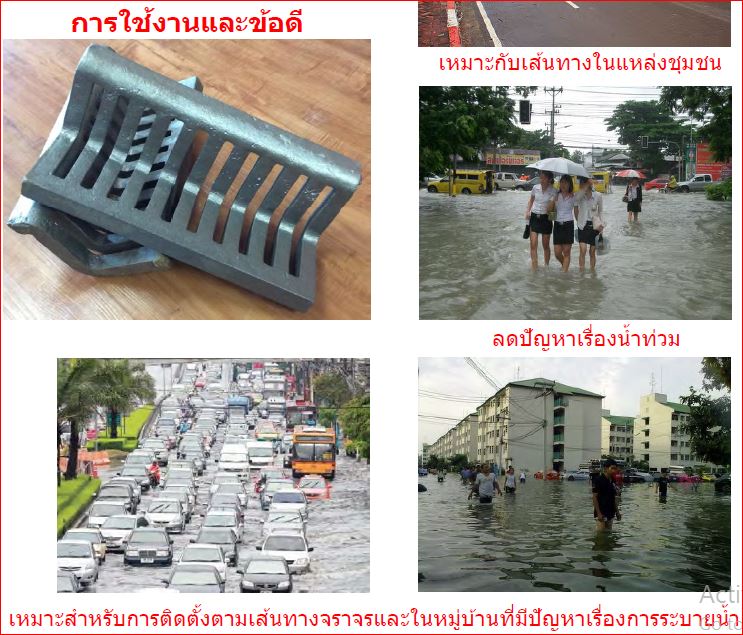 Dust Screen Driveway Grating, trash, stone, box, grate, water, weir, grate, trap, separate, debris, drift, dust, food, leaves, paper, By the standards of the municipality. Department of Public Works and Town Planning Department of Rural Roads Bangkok
Dust Screen Driveway Grating ตะแกรงดักขยะคันหินกล่องช่องตะแกรงรับน้ำฝายตะแกรงหวีดักแยกเศษขยะลอย ฝุ่นผง เศษอาหาร ใบไม้ กระดาษ คันหิน รางยูด้านข้างริมฟุตบาท ตามมาตรฐานของเทศบาล กรมโยธาธิการและผังเมือง กรมทางหลวงชนบท กรุงเทพมหานคร
---
Side Curbed Drainage Driveway Grating Trench basin Dust screen side traffic road highway ตะแกรงดักแยกขยะในคันหินข้างริมฟุตบาท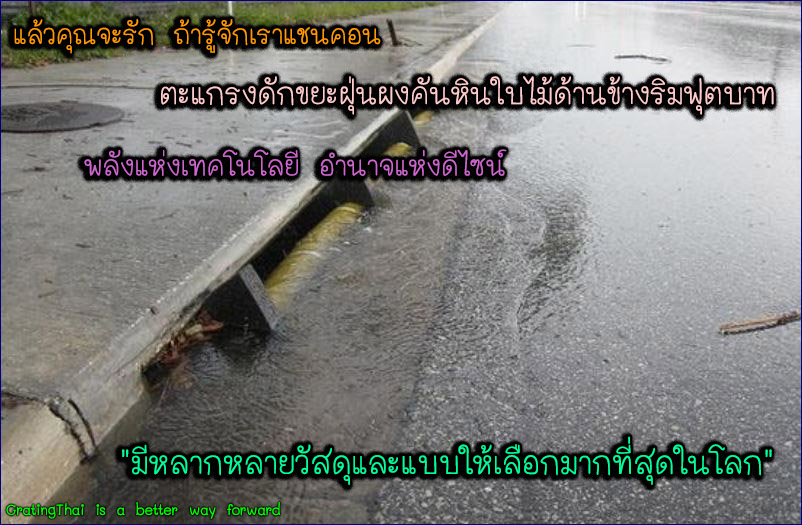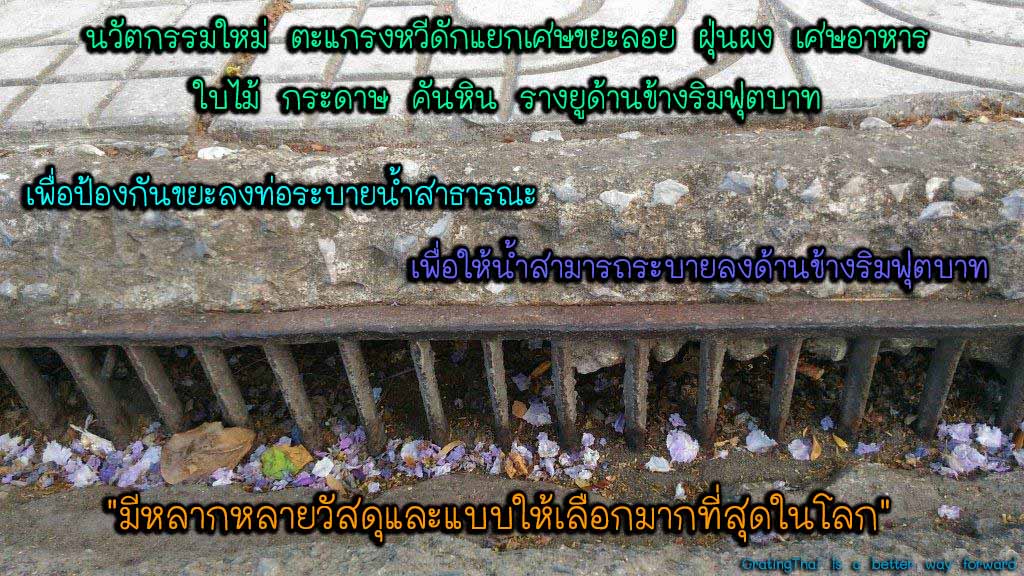 The "Rain Shooter" was designed for rainwater that has entered drainage pavement and surface drain water. To facilitate rapid draining, openings are placed on side and top surfaces. Grating Specialist:
We carry all types of roof drains, re-roof drains, overflow drains, retrofit drains, balcony drain, deck drains, floor drains, roof drain accessories and scupper drains as well as replacement roof drain parts. Our drain solutions include both commercial and residential drains. Whether you need roof or deck drains for new construction or repair work, we have what you need. How to size drain pipes.
Both the placement and choice of drainage on the highway is problematic for cyclists. Highway gullies – drainage pits covered by open metal grating located on the road's edge – are of primary concern to cyclists' safety. On the Sea to Sky Highway, the metal grating of the gullies run in the same, or similar, direction of bicycle tires rather than perpendicular; paired with spacing between the grates exceeding the common bike tire width, there exists a high probability of tires catching the grates while transversing the gullies. In addition, their common placement in the shoulders contribute to a reduction in the effective shoulder width. Dangers related to drainage grates on the highway are increased by poor hazard marking: few were labelled with warning signs, while paint markings were often severely worn. Scuppers – openings in the concrete barriers to drain water – are found along the highway as well and pose no threat to cyclists; their use over highway gullies should be standard except where road conditions and regulations do not permit their use. Where scuppers can not be used, "Bike Safe" drains are an appropriate replacement that meet highway regulations.
---
การประยุกต์ใช้งานตะแกรงดักแยกขยะฝุ่นผงและคันหินข้างริมฟุตบาท Specification Roadside along side Highway Drainage Cover Grating System
Wipe the sieve, separate the waste debris into the drain at the foot of the foot. Trash dust, sludge, food waste, paper leaves, stone rods, grate boxes Tracks on the side of the footpath. Produce and design specifications according to municipal standards. Department of Public Works and Town Planning Department of Rural Roads National Housing Authority Expressway Trench drainage Dust screen driveway near footbath, Leaf trapper safe scupper drainage traffic grates along side of highway
ฝายตะแกรงหวีดักแยกเศษขยะลอยใส่ช่องระบายน้ำตรงขอบฟุตบาท ดักฝุ่นผงตะกอนขยะ เศษอาหาร ใบไม้ กระดาษ คันหินกล่องช่องตะแกรงรับน้ำ รางยูด้านข้างริมฟุตบาท ผลิตและออกแบบสเปคตามมาตรฐานของเทศบาล กรมโยธาธิการและผังเมือง กรมทางหลวงชนบท การเคหะแห่งชาติ การทางพิเศษแห่งประเทศไทย Trench drainage Dust screen driveway grating near footbath, Leaf trapper safe scupper drain traffic grates along side of highway

   located on a kerb and channel to catch stormwater from a road surface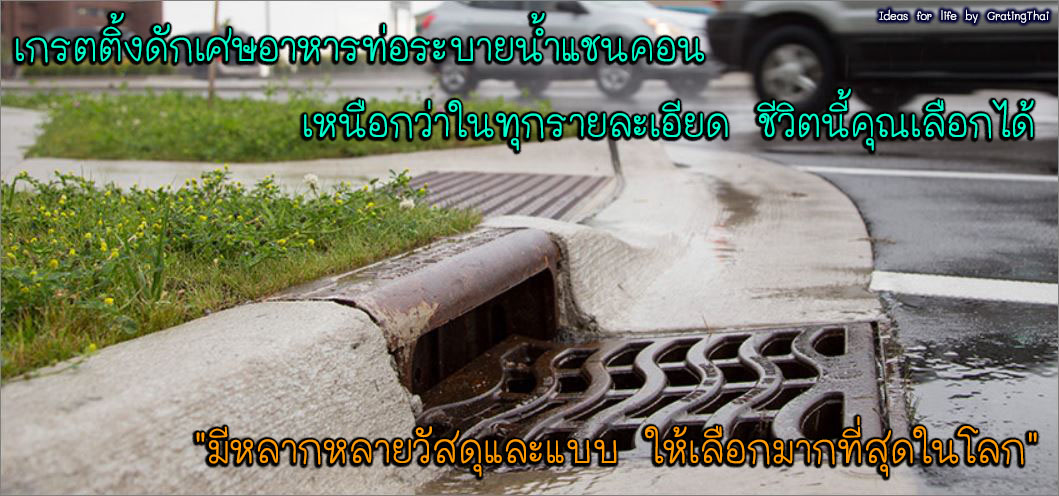 When it rains, water runs off from streets, carparks, the roofs of houses and other surfaces, into the nearest waterway. This run-off can be defined as stormwater.  Stormwater run-off can enter waterways via a sub-surface network of pipes or as surface run-off. Most urban areas have a system of drains with entry points to pipes to drain stormwater. In some urban areas particularly in rural towns there may be no piped infrastructure and stormwater is drained via open gutters.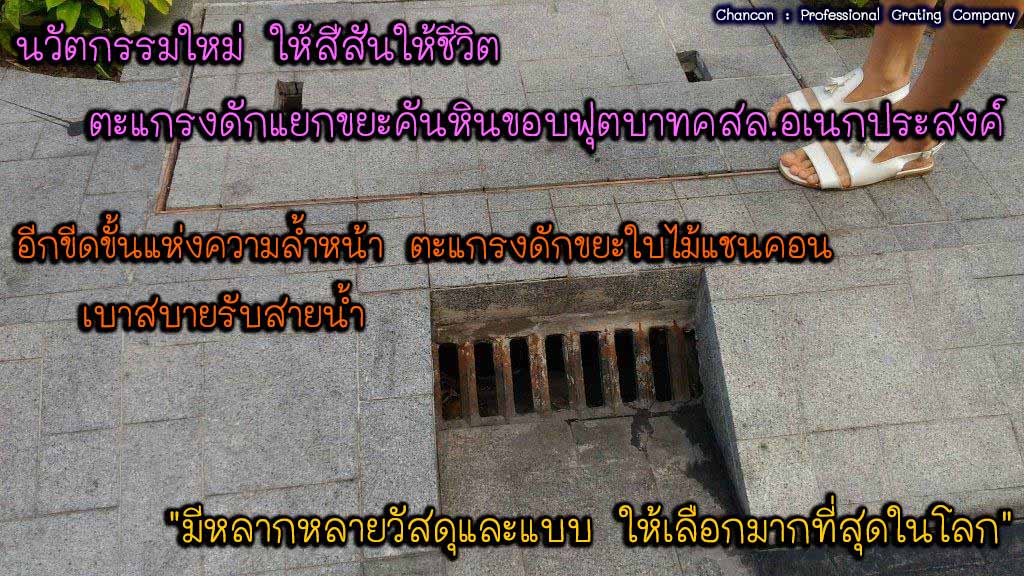 We assess the likelihood of such rainfall events, in terms of the predicated intensity and duration and the amount of runoff that could be expected.  We use this information to design drains and pipes to direct the water to the nearest appropriate waterway. From time to time rainfall events can be quite severe and exceed the available capacity of our stormwater systems.
Sidewalk drains, or trench drains, provide linear drainage in paved areas such as sidewalks and parking lots. When sidewalks run alongside a building, linear drainage may be required to convey roof runoff from the downspouts away from the building while accepting sheet flow from the pavement. Sidewalk drains are used along with downspout boots to ensure well drained pedestrian surfaces and effective downspout drainage. We offer cast iron sidewalk drains with various decorative and pedestrian safe grate designs. Multiple frame options including a center-locking theft resistant model are offered to meet site specific requirements. Sidewalk drain assemblies are available with traffic rated as well as pedestrian safe grates in several sizes ideal for applications ranging from green infrastructure to parking lot drainage.
---
ฝายตะแกรงหวีดักแยกเศษขยะลอยใส่ช่องระบายน้ำตรงขอบฟุตบาท ดักฝุ่นผงตะกอนขยะ เศษอาหาร ใบไม้ กระดาษ คันหินกล่องช่องตะแกรงรับน้ำ รางยูด้านข้างริมฟุตบาท, สเปคตามมาตรฐานของเทศบาล กรมโยธาธิการและผังเมือง กรมทางหลวงชนบท การเคหะแห่งชาติ การทางพิเศษแห่งประเทศไทย,Trench basin scupper Dust screen driveway side drainage grating traffic road highway, Leaf trapper safe scupper drainage traffic grates along side of highway

Drainage Grates Inlets, Frames and Curb Inlets 
Drainage grates are designed to accept water and can be round, square, or rectangular. It is typically sold with a frame, curb inlet frame, monument box, or bridge drain. Some markets call these slotted covers.
Access Covers, Grates and Frames | INLETS & STORM SEWERS 
Grating Thai produces and offers a variety of cast iron drain bridge scuppers. the bridge scupper street and construction castings to meet ASTM and AASHTO criteria. In addition, our castings meet federal and state DOT specifications; and other county, city or local standards. Customer choices are typically based on shape, size, load rating, material type, pick options, and lock type.
Manhole frames and covers can be round, square or rectangular. They're typically available as an assembly or set depending on whether assembled together before shipment.
Optional "Dump No Waste! Drains To Waterways" and other custom cast-in lettering is an effective way to support local environmental initiatives. Drainage castings or grates are typically sold with a frame, curb inlet frame, monument box, or bridge drain. Some markets call these slotted covers. Specifying the appropriate drainage solution is an important part of a storm water management plan. The wide array of products includes ditch grates, pipe grates, curb and gutter inlets and catch basins.Grating Thai has the trench drainage solution to fit your application from pedestrian areas to airport loading ramps expandable, and available in numerous widths. Designer trench grates may be standalone architectural enhancements, or can accompany matching tree grate designs.

Bridge Drain Scupper | Storm Drain Inlets offers an excellent drainage solution for bridge applications. The scupper systems collect water from bridge deck surfaces to convey this water to appropriate positions beneath the bridge. The key advantage on our scuppers is its lightweight construction.

A catch basin (storm drain inlet, curb inlet) is an inlet to the storm drain system that typically includes a grate or curb inlet where stormwater enters the catch basin and a sump to capture sediment, debris and associated pollutants. They are also used in combined sewer watersheds to capture floatables and settle some solids. Catch basins act as pretreatment for other treatment practices by capturing large sedime nts. The performance of catch basins at removing sediment and other pollutants depends on the design of the catch basin (e.g., the size of the sump), and routine maintenance to retain the storage available in the sump to capture sediment.
Catch basins are used in drainage systems throughout the United States. However, many catch basins are not designed for sediment and pollutant capture. Ideal application of catch basins is as pretreatment to another stormwater management practice. Retrofitting existing catch basins may help to improve their performance substantially. A simple retrofit option of catch basins is to ensure that all catch basins have a hooded outlet to prevent floatable materials, such as trash and debris, from entering th e storm drain system.
Most curb opening inlets depend heavily upon an adjacent depression in the gutter for effective flow interception. Greater interception rates result in shorter inlet lengths. However, a large gutter depression can be unsafe for traffic flow and bicycle operation near the gutter line. Therefore, a compromise is in order when selecting an appropriate value for the gutter depression. The depth of the gutter depression
Some municipalities in the state prefer to recess curb inlets with significant depression to minimize interference with traffic flow. The inlet is recessed from the line of the curb and gutter such that the depression does not extend beyond the gutter line. This may improve driveability; however, the curb transition may pose a hazard to traffic. Curb opening inlets are useful in sag and on-grade situations because of their self-cleansing abilities and hydraulic efficiency. Additionally, they are often preferred over grate inlets because the inlet is placed outside the travel way and poses less of a risk to motorists and bicycle traffic.
A drawback of curb opening inlets is that the flowline of the opening is fixed and not readily adaptable to changing pavement levels as occur in surface treatment overlays. Successive overlays can gradually reduce or even eliminate the original opening available for water removal, unless the pavement edge is tapered to the original gutter line.

For the most part, grate inlets are used in sag configurations in gutters, adjacent to concrete traffic barriers or rails (where curb inlets would not be practicable), V-shaped gutters with no curb or barrier, and ditches. Grate inlets may also be used at on-grade situations combined with curb inlets. Grate inlets adapt to urban roadway features such as driveways, street intersections, and medians. When grate inlets are specified, the grate configuration and orientation should be compatible with bicycle and wheelchair safety.
Access to the storm drain system through a grate inlet is excellent in that, usually, the grate is removable. On the other hand, maintenance of grate inlets can be a continuing problem during the life of the facility; the propensity to collect debris makes grate inlets a constant object of maintenance attention. As such debris accumulates it obstructs the flow of surface water into the inlet. Grate inlets also present potential interference with bicycles and wheelchairs.

Linear Drains 
Linear drains were designed for the interception of wide spread, low flow situations. Applications include intercepting sheet flow from the roadway when collection at a concentration point is not practical, or providing a generalized inlet for stagnate flow on pavements without slope. Linear drains have the advantage that no depression is necessary for hydraulic efficiency. Linear drains may be useful in problematic areas where curb and grate inlets are ineffective, such as along a median barrier, and at super elevation transitions. Linear drains can also be installed transversely across the roadway. However, linear drains have several drawbacks: Linear drains have a high propensity to collect debris in sag configurations. Regular maintenance is required to clear debris from over the drain inlet. Installation can be difficult. Because the inlet is installed flush with the surface of the pavement, placement is critical.

Slotted Drains 
Slotted drains consist of a corrugated pipe with an extended slot, or throat, at the top (see Figure 10-5). The throat of a slotted drain inlet is ordinarily reinforced for structural integrity. Slotted Drain Inlet. Slotted drains should be installed with sufficient slope to provide a cleaning velocity for the corrugations. If not, regular cleaning and maintenance must be scheduled on the slotted drain. Clean out access boxes are usually needed at the far end of each slotted drain run to facilitate regular maintenance and cleaning.

Trench Drains 
Trench drains may be precast or cast-in-place. Figure 10-6 illustrates the body and grate of an installed precast trench drain. Precast trench drain. Trench drains have the advantage of a shallower embedment depth and an extremely smooth invert that doesn't retain sediments, but the disadvantage of having a limited volume because of their size. Trench drains on Department roadways are required to have non-removable grates because removable grates may come loose or move which will create a traffic hazard. The grates specified by the Department have a minimum of 60% open space which allows for cleaning with a vacuum truck or water truck without removing the grates.

Combination Inlets 
Combination inlets such as curb and grate can be useful in many configurations, especially sag locations. Because of the inherent debris problem in sags, the combination inlet offers an overflow drain if part of the inlet becomes completely or severely clogged by debris. Maintenance of combination inlets is usually facilitated by the fact that the grate is removable, providing easy access to the inlet and associated storm drain system. Combination inlets used on-grade generally are not cost-effective because of the relatively small additional hydraulic capacity afforded. Authentic data on such combinations are insufficient to establish accurate factors for determining the true capacity of a combination inlet. For a combination curb and grate, assume that the capacity of the combination inlet comprises the sum of the capacity of the grate and the upstream curb opening length. Ignore the capacity of the curb opening that is adjacent to the grate opening.

Inlets in Sag Configurations 
An inlet in a sag configuration is considered the "end of the line" because the water and its debris load have no other place to go. Because of this, failure of an inlet in a sag configuration often represents a threat to the successful operation of a storm drain system. Therefore, the hydraulic designer must consider some additional items such as complex ponded width and complex approach slopes. In a sag configuration, the controlling ponded width can be from one of two origins. The inlet itself may cause a head that translates to a ponded width, and the flow in the curb and gutter from each direction subtends its own ponded width. If the sag is in a vertical curve, the slope at the sag is zero, which would mean that there is no gutter capacity. In reality there is a three-dimensional flow pattern resulting from the drawdown effect of the inlet. As an approximation, one reasonable approach is to assume a longitudinal slope of one half of the tangent grade. Because the water or its debris load can go no other place, an appropriate safety factor should be applied to the inlet size. For grate inlets in sags, the usual safety factor is approximately two; for curb inlets, the factor can be somewhat less. In application, the factor of safety for a grate inlet is applied as a safety reduction factor, or clogging factor. For example, a safety factor of 2 would result in a clogging factor of 50%, which assumes that half the grate is clogged by debris. Where significant ponding can occur such as in an underpass and in a sag-vertical curve, good engineering practice is to place flanking inlets on each side of the sag location inlet to relieve some or most of the flow burden on the inlet in sag. Flanking inlets should be analyzed as inlets on-grade at some specified distance (usually 50 or 100 feet) away from the low point on the sag vertical curve.

Median/Ditch Drains 
Drains or inlets appearing in ditches and medians are usually grate inlets and are also termed "drop inlets." The operation of the inlet is enhanced by a concrete riprap collar that forms a type of bowl around the inlet. Often, such an inlet is in a sag (sump) configuration created by a ditch block. Department research ( 0-5823-1) indicates that a six inch ditch block may not be adequate to ensure complete capture of flow; a taller ditch block may be necessary. However, the designer must either determine the required depth for complete capture, or account for flow over the ditch block to the next inlet. Care must be taken to ensure that the ditch block slopes meet clear zone standards.

Drainage Chutes 
Drainage chutes, also referred to as over-side drains or curb slots, are commonly used at the ends of bridges to either prevent flow from running onto a bridge deck, or to prevent flow from running off a bridge deck onto the pavement. There may be other locations where a drainage chute or curb cut may be useful in removing flow from the pavement where no storm drainage system is present and where suitable outfall is present behind the curb and gutter section. In most cases, an opening in the curb connects to a scour-resistant channel or chute which prevents erosion of the embankment or slope. In some instances, the channel or chute may be replaced with a pipe placed in the roadway embankment as illustrated in Figure 10-8. This treatment facilitates mowing and other maintenance but also introduces its own maintenance needs to keep it from clogging.

Inlet Locations 
The inlet location may be dictated either by roadway elements, hydraulic requirements, or both. Inlets should be placed upstream of roadway elements such as sags, street intersections, gore islands (see Figure 10-9), super elevation transitions, driveways, cross-walks, and curb ramps (see Bypass Flow Design Approach). Flow across intersections, ramps, and to a lesser extent, driveways, may cause a traffic hazard, while flow across cross-walks and curb ramps may cause a pedestrian hazard. Inlets at these locations should be designed to capture 100% of the flow. Inlets should also be located hydraulically to prevent excessive gutter flow and excessive ponding.

Drain inlets collect water from roads and parking lots and convey it to an underground storm drain system. Drain inlets incorporated into a curb and gutter systems are called curb inlets. Drain inlets have minimal water quality benefit alone; however, in a developed watershed they are often a necessary component of a drainage system that as a whole has a water quality benefit. There are design elements that can be incorporated into a drain inlet to achieve some water quality benefit.
APPLICABILITY Drain inlets are suitable along paved roads, parking lots, paved swales, or rock-lined ditches where permanent storm drain system are currently installed or planned to be.
Drain inlets Advantages Prevents discharge of degraded runoff water from roadside ditches and Reduces discharge velocity from culverts/curbs by dissipating energy.
CHANCON Interesting Products Catalogue
แนะนำแค๊ตตาล็อคสินค้าของบริษัทแชนคอน 
#แชนคอน 
ศูนย์รวมตะแกรงระบายน้ำสำเร็จรูป 
มีหลากหลายวัสดุและแบบ ให้เลือกมากที่สุดในโลก 
    Word Class Quality #Manhole Cover #Overflow Grating Specialist
1-6 Gully Grating: กลุ่มสินค้า ตะแกรงทางเดินระบายน้ำ ดักขยะในคันหินข้างฟุตบาท โคนต้นไม้

7-9 Manhole Cover: กลุ่มสินค้า ฝาปิดบ่อพัก ฝาท่อ เหล็กหล่อเหนียว ไฟเบอร์กล๊าสผสมเรซิ่น

10-15 Related Grating: กลุ่มสินค้าตะแกรงตกแต่ง ตัวคลิปล็อคอุปกรณ์ยึดจับตะแกรงเหล็ก


 … GratingThai Products Brochure Download … 
---
Project reference ตัวอย่างลูกค้า การประยุกต์ใช้ 
วิธีการเลือกซื้อ ตะแกรงพลาสติคPP ตะแกรงเหล็กเชื่อมชุบกัลวาไนซ์สำเร็จรูป เกรตติ้งไฟเบอร์กล๊าส ฝาบ่อฝาท่อปิดบ่อพักระบายน้ำ กระดานเพ็กบอร์ด ตะขอขาแขวนฮุค แผ่นปิดจมูกบันไดกันลื่นเรืองแสง แผ่นกันลื่นบันไดไฟเบอร์กล๊าสสะท้อนแสง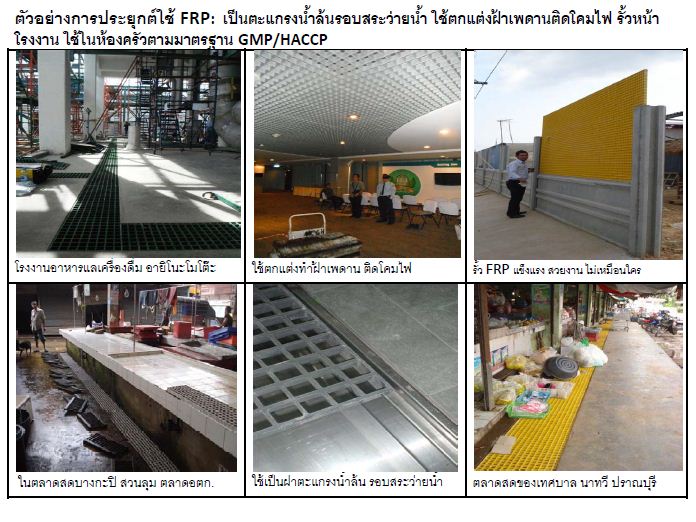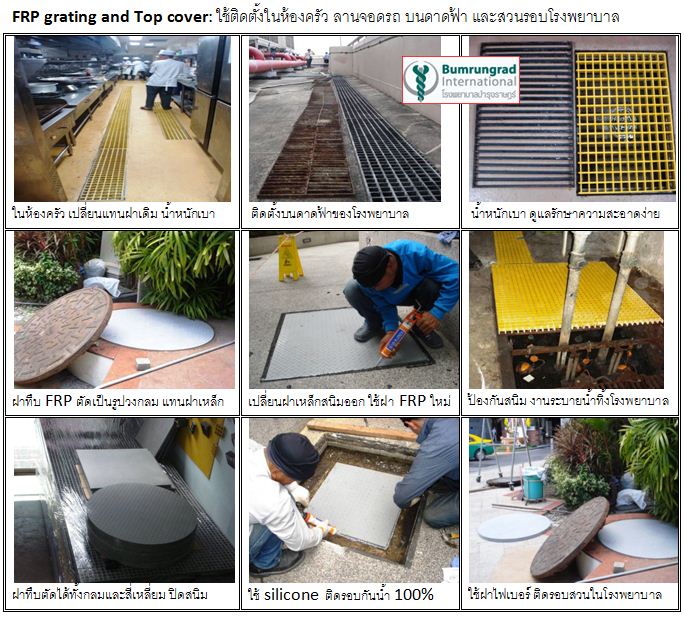 Swimming Pool Overflow Spa Plastic Grating, เกรตติ้งพลาสติกระบายน้ำล้นรอบขอบสระว่ายน้ำสำเร็จรูป |ตะแกรงเหล็กแผ่นเชื่อมสำเร็จรูปชุบจุ่มร้อนกันสนิม, Galvanized Welded Bar Carbon Steel Grating | ตะแกรงเกรตติ้งระบายน้ำไฟเบอร์กล๊าส, Fibreglass GFRP Overflow Swimming pool Grating | Scupper Curbed Drainage Grates,ตะแกรงดักขยะฝุ่นผงคันหินใบไม้ด้านข้างริมฟุตบาท | ฝาปิดบ่อท่อพักระบายน้ำเหล็กหล่อเหนียว, Ductile Iron Sewer Manhole Cover | ฝาปิดบ่อท่อพักไฟเบอร์กล๊าส, FRP Fiberglass Manhole COVER, แผ่นปูพื้นยกระดับ Raised Floor | EggCrate, Facade Cladding ,แผงระแนงบังตา หน้ากากตึก | Pegboard , Hooks Accessories ,เพ็กบอร์ด, แผ่นเหล็กเจาะรูแขวนเครื่องมือ ,ฮุกตะขอลวดขาแขวนเพ็คบอร์ด | Anti Slip GFRP Stair Tread Nosing Step Covers, Non-Skid Outdoor Plate Sheeting, แผ่นปิดจมูกขอบมุมคิ้วแผงครอบบันได ,แผ่นปูพื้นปิดผิวกันลื่นไฟเบอร์กล๊าส | Saddle Clip Clamp Lock Grating, Fastenal Fastener Lock Bar Steel Grating ,อุปกรณ์ตัวคลิปล็อคยึดจับแผ่นตะแกรง 
---
Home Page of CHANCON (Products Menu)
เมนูหน้าแรก บริษัทแชนคอน – บริษัทเกรตติงไทย 
    GFRP-Steel-Plastic-PPABS Swimming Overflow Welded Steel Bar GRATING / Composite FibreGlass Casting Ductile Iron MANHOLE COVER ฝาบ่อทึบปิดท่อพักครอบท่อรางระบายน้ำทิ้งสำเร็จรูป ฝาท่อ แมนโฮล เกรตติ้ง / Anchoring Devices attached Saddle Fixing Clip Clamp Lock Fastenal Fastener Bar Steel Grating / Curbed Drainage Grating Scupper / Stair Tread Nosing / Perforated Pegboard Hook Shelves Racking Storage Tools DIY Kit : ตะแกรงไฟเบอร์กล๊าสพลาสติกระบายน้ำล้นรอบขอบสระว่ายน้ำ เกรตติ้งเหล็กชุบสังกะสีทนสนิม ตะแกรงดักเศษอาหารขยะฝังในคันหินคสล. ฝาทึบปิดบ่อครอบท่อพักไฟเบอร์กล๊าสเหล็กหล่อเหนียว แผ่นปูพื้นทางเดินยกระดับ อุปกรณ์ตะขอขาแขวนฮุกแผ่นกระดานเพกบอร์ดแผงเหล็กเจาะรูติดผนังกำแพงแขวนเก็บอุปกรณ์เครื่องมือช่าง 
Contact & Enquiry ติดต่อสั่งซื้อ แผนที่ ราคาส่วนลด 
    A. Contact us : ช่องทางติดต่อสั่งซื้อ แผนที่รับสินค้า บัญชีธนาคาร เงื่อนไขการจัดส่ง
    B. Price-Quotation : เช็คราคาสินค้า ขอใบเสนอราคา ส่วนลดพิเศษ
    C. Projects Reference : ตัวอย่างลูกค้า การประยุกต์ใช้ วิธีการเลือกซื้อ
    D. Specification and Services : ความหมาย การสั่งผลิต ติดตั้ง ออกแบบ ผลทดสอบการรับแรง-สารเคมี
    E. About Us (Grating Expert) : Grating Thai | Chancon Group of Company (บริษัท แชนคอน)
    F. Dealer Sales Wanted : ขอเป็นตัวแทนจำหน่าย รับสมัครพนักงานขาย
    G. Shopping Site Map : ราคาสินค้าทั้งหมดของ ตะแกรงระบายน้ำ ฝาปิดบ่อครอบท่อพัก

Overflow Grating ตะแกรงระบายน้ำล้น เกรตติ้งทางเดิน 
    1. Plastic PolyPropylene Grating ตะแกรงทางเดินระบายน้ำ พลาสติกชนิดเหนียวแข็งแรงพิเศษ PP
    2. Galvanised Steel Grating ตะแกรงเหล็กแผ่นเชื่อมสำเร็จรูปชุบกันสนิม สำหรับรางระบายน้ำ ทางเดิน
    3. FRP FiberGlass Mould Grating ตะแกรงระบายน้ำไฟเบอร์กล๊าส แผ่นปูพื้นทางเดินในโรงงาน
    4. ABS Swimming Overflow Drainage Grating แผ่นตะแกรงระบายน้ำล้นรอบขอบสระว่ายน้ำ
    5. Drive HighWay Leaf Side Drain Grating ตะแกรงดักขยะฝุ่นผงคันหินใบไม้ด้านข้างริมฟุตบาท
    6. Tree Guard Grating Paver Frame Cover กรอบตะแกรงปกป้องรอบโคนต้นไม้ สำเร็จรูป

Manhole Cover ฝาบ่อแมนโฮลปิดครอบท่อพักระบายน้ำ 
    7. FRP Manhole Cover ฝาปิดบ่อพัก ฝาท่อไฟเบอร์กล๊าสผสมเรซิ่น (ไม่เป็นสนิม ทดแทนแสตนเลส) 
    8. Ductile Cast Iron Manhole Cover (Round/Square) ฝาปิดท่อ ฝาบ่อพักเหล็กหล่อเหนียวบำบัดน้ำ 
    9. FRP Diamond Top Cover (Special Cut) ฝาปิดบ่อครอบท่อพักไฟเบอร์กล๊าสชนิดสั่งตัดตามขนาด 
Grating Equipment เพ็กบอร์ด ฮุค คลิปล็อค แผ่นปิดผิวกันลื่น 
  10. Egg Crate Ceiling Screen แผงระแนงบังตาหน้ากากตะแกรงกั้นช่องแสงบังไฟ กรองลมระบายอากาศ
  11. Ceiling Trellis Shade Grilles ฉากแผ่นฝ้าเพดานผนังม่าน รั้วราวแผงกั้นพาร์ทิชั่น กันสาดระแนงบังตา
  12. PegBoard Display Tools Hooks Shelves Perforated Racking แผ่นกระดานเพ็กบอร์ดเจาะรูติดผนังแขวนเก็บอุปกรณ์เครื่องมือช่าง ตะขอขาแขวนฮุก
  13. FRP Stair Tread Nosing Step Cover Protector แผ่นปิดจมูกขอบมุมคิ้วแผงครอบบันไดกันลื่นไฟเบอร์กล๊าส แผ่นปิดพื้นผิวกันลื่น ทดแทนเทปกันลื่น เทปตีเส้นเรืองแสง
  14. HDG Steel Grating clip lock clamp fastener คลิปล็อคยึดจับแผงตะแกรง แสตนเลส/เหล็กทนสนิม
  15. FormWork Ties System: TieRod/ThreadBar เหล็กรับแรงทนดึงสูง WingNut WaterStopper

---
---
CONTACT US : CHANCON GRATINGTHAI
ติดต่อ บจก.แชนคอน – บจก.เกรตติงไทย
แชนคอน ผู้ผลิตที่เชี่ยวชาญโดยเฉพาะด้าน ระบบงานฝาตะแกรงระบายน้ำสำเร็จรูป แผ่นปูพื้นทางเดิน แผ่นพื้นยกระดับ ตะแกรงดักขยะข้างฟุตบาท ตะแกรงขั้นบันได แผ่นพื้นยกระดับน้ำหนักเบา ฝาบ่อชำระล้าง ฝาท่อปิดบ่อพัก แผ่นพื้นในลานผลิตเอนกประสงค์ แผ่นรองปูรอบเครื่องจักรกันลื่น แผ่นทางเดินด้านบนระบบบำบัดน้ำเสีย แผ่นกันลื่นขั้นบันไดเหล็กในโรงงาน กระดานเพ็กบอร์ดแขวนเครื่องมือ PegBoard Hooks ทนทานต่อการสึกกร่อนจากทั้งน้ำเค็ม ฝนกรด ปัญหาสนิมและสารเคมี




Grating_Manhole_Expert | โรงงานผู้ผลิต ขายส่ง-ปลีก | รับสมัคร ตัวแทนจำหน่าย Sales, Dealer, Agent, Distributor || บริษัทแชนคอน โรงงานผู้ผลิตและจำหน่าย FRP Grating ตะแกรงรางระบายน้ำ ตะแกรงทางเดิน ฝาปิดบ่อครอบท่อพักระบบบำบัดน้ำเสีย
CHANCON Co., Ltd. | GratingThai Co., Ltd. ||  (Head office ตรงข้ามเซ็นทรัลพระราม2) เลขที่ 199 ซอยท่าข้าม21/1 แสมดำ บางขุนเทียน กรุงเทพมหานคร ประเทศไทย | 199 Takham21/1 Takham Road, Bangkhuntien Bangkok Thailand 10150 Mobile Phone(Sales): 081 932 7894, 061 647 0184-6     Tel: 02 451 0780-1, Fax: 02 451 0786
E-mail: mkt@chancon.co.th   |     Line@: @iCHANCON
Website: http://www.CHANCON.co.th   |   www.GratingThai.co.th | http://GRATINGTHAI.com |
http://www.ตะแกรงไฟเบอร์กลาส-ฝาบ่อเหล็กฝาท่อ.com | www.KanokMat.com | www.PongSa.com
FaceBook: https://www.facebook.com/weChancoN
Youtube: http://www.youtube.com/mktchancon
Twitter: http://twitter.com/fibergrating
Google Plus: https://plus.google.com/+ChanconTh
Pinterest: https://www.pinterest.com/FRPSteelGratingManholecover/boards/ 
Instagram: https://www.instagram.com/fibermanhole_gratingthai/
BlogSpot: http://chanconfrpgrating.blogspot.com/ 
ខ្សាច់រាំងស្ទះរអិលកំប៉ុងអំបោះរណ្តៅធូលីដីធូលីដីកំប៉ុងស្តុកអង្ករជាតិស្ករស្តើង # បាតស្ទួយរានរាងរទេះចង្ក្រានធ្នឹម # ដាប់ធ័របញ្ចោញផ្លូវបង្ហូរទឹក ផ្នែកម្ខាងផ្លូវហាយវ៉េ # Storm ទប់ស្កាត់ Inlet Griding DrainBox ចរាចរណ៍ផ្លូវហាយវេចំហៀងទឹកលាមកអេក្រង់ Trench បូមដែកដែក Ductile
រចនាសម្រាប់ប្រើជា ធុងសំរាមអាចបំបែកសំរាមធូលីអន្ទាក់អន្ទាក់ដែលត្រូវកប់នៅក្នុងបេតុង។ ដូច្ន្រះទឹកអាចបង្ហូរចុះផ្ន្រកន្រផ្លូវផ្រស្រង។ រចនានិងផលិតផលិតផលតាមស្តង់ដារនៃស្តង់ដារក្រុង, មន្ទីរសាធារណៈការនិងផែនការក្រុង។ នាយកដ្ឋានផ្លូវជនបទ អាជ្ញាធរលំនៅដ្ឋានជាតិ អាជ្ញាធរផ្លូវហាយវ៉េនៃប្រទេសថៃ
កូនកាំបន្សំធូលីថ្មស្លឹកឈើចំហៀងផ្លូវទឹក <- ចុច! ទាញយកខិត្តប័ណ្ណ
Casting Ductile Iron Drive Way Curbed Scupper Drainage Grating Quotation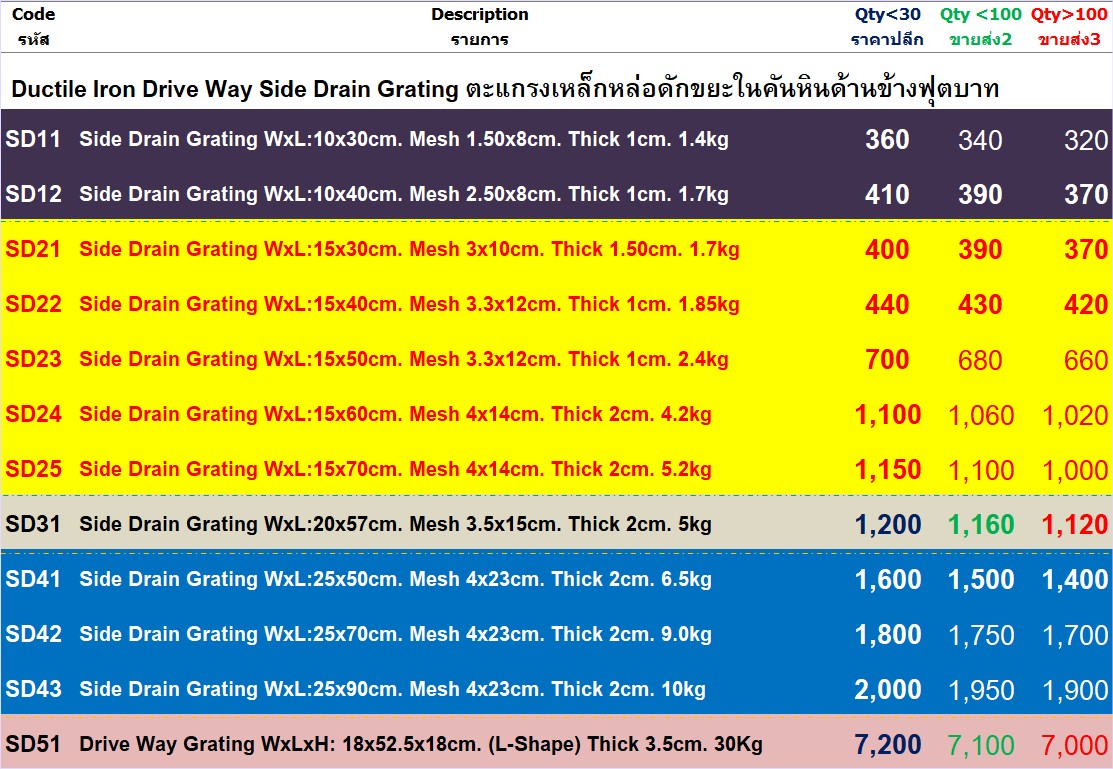 ** ราคาที่นำเสนอข้างต้น ยังไม่รวมภาษีมูลค่าเพิ่ม และค่าจัดส่ง (เป็นราคามารับเองที่โรงงาน) | Price excluded VAT and Delivery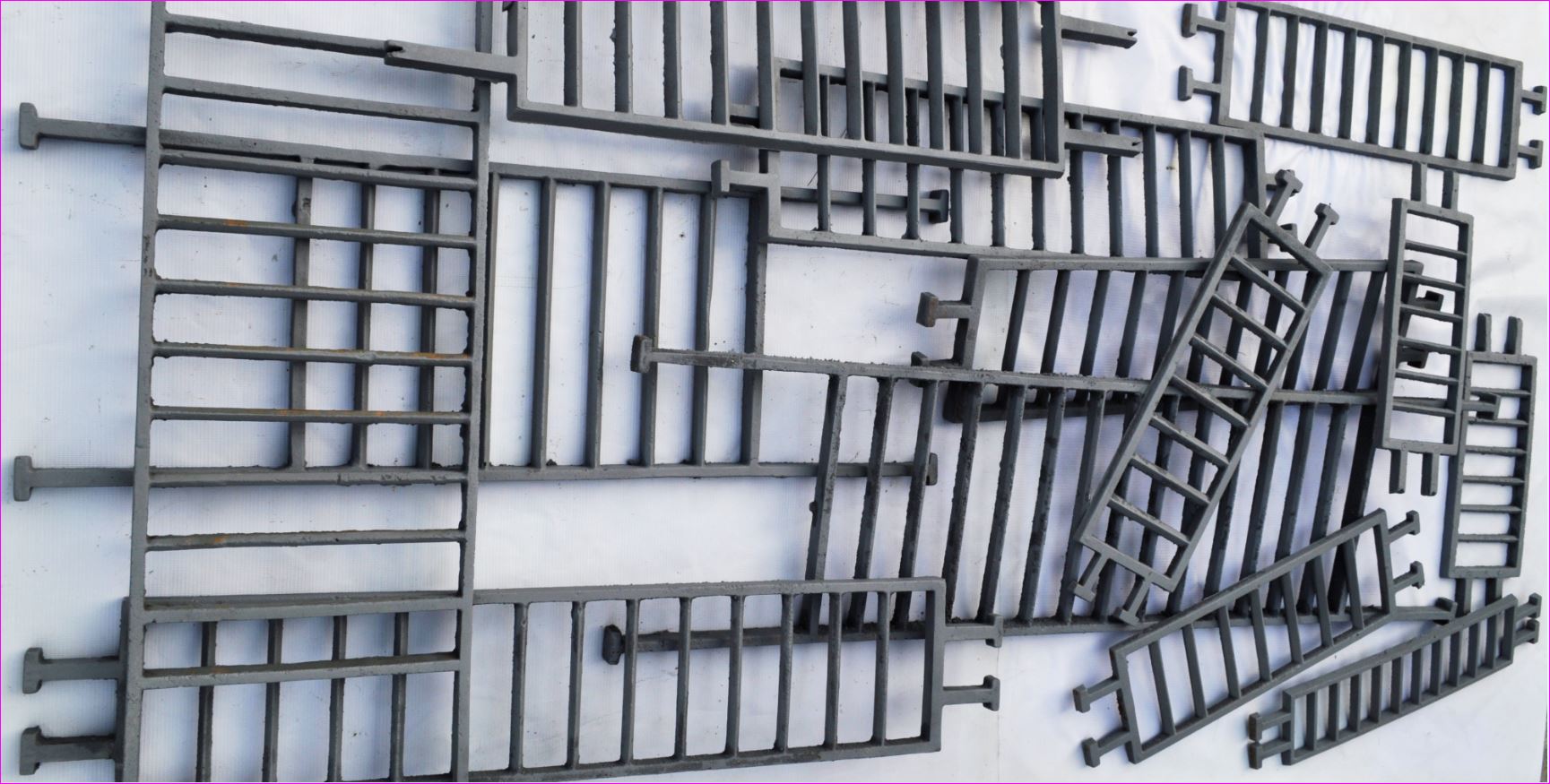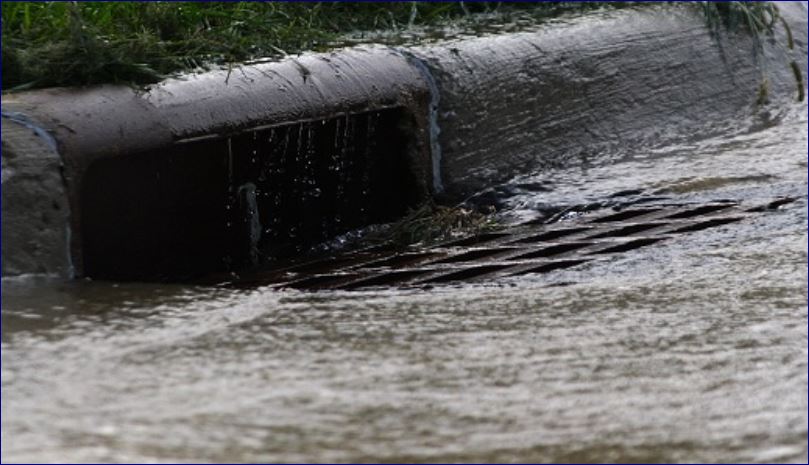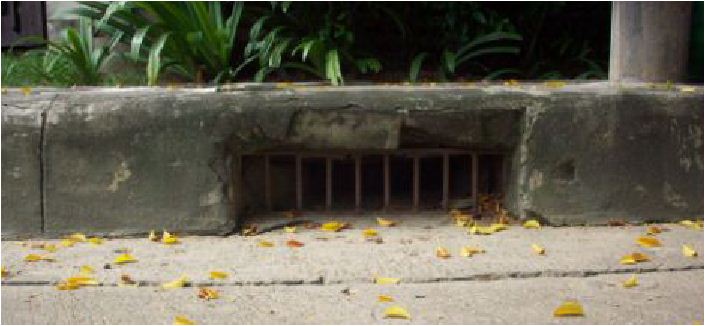 Curbed Drainage Grates Scupper Specification
ទំហំនិងការពិពណ៌នា សំរាមបំបែកនៅលើថ្ម។

SD11: Curbed Drainage Grates Scupper ตะแกรงดักแยกขยะในคันหินข้างริมฟุตบาท
Size 10x30cm. Mesh 1.50x8cm. Thick 1cm. W:1.5kg
SD11: រន្ធបង្ហូរក្រឡុក
ទំហំ 10×30 សង់ទីម៉ែត្រ។ Mesh 1.50x8cm ។ កម្រាស់ 1 សង់ទីម៉ែត្រ។ W: 1,5 គីឡូក្រាម

Top Sell #1 SD12: សូមថ្លែងអំណរគុណ 10x40cm.
Size 10x40cm. Mesh 2.50x8cm. Thick 1cm. W:1.5kg
Side Curbed Drainage Driveway Grating Trench basin Dust screen side traffic road highway


ជូត Sieve, បំបែកកាកសំណល់កាកសំណល់ចូលទៅក្នុងបំពង់បង្ហូរនៅជើងជើង។ ធ្វើឱ្យធូលីដីកាកសំណល់អាហារកាកសំណល់អាហារស្លឹកកដាសកំណាត់ថ្មកំប៉ុង ចិញ្ចើមផ្លូវ, ចិញ្ចើមផ្លូវ, ការបញ្ជាក់ស្តង់ដារនៃក្រុង នាយកដ្ឋានការងារសាធារណៈនិងទីប្រជុំជន នាយកដ្ឋានផ្លូវជនបទ អាជ្ញាធរលំនៅដ្ឋានជាតិ អាជ្ញាធរផ្លូវហាយវ៉េនៃប្រទេសថៃ

---

Top Sell #2 SD21: សូមថ្លែងអំណរគុណ 15x30cm.
Size 15x30cm. Mesh 3x10cm. Thick 1.50cm. W:1.7kg
Side Curbed Drainage Driveway Grating Trench basin Dust screen side traffic road highway


រាំងស្ទះ Drainage Grating Scupper ជូត Sieve, បំបែកកាកសំណល់កាកសំណល់ចូលទៅក្នុងបំពង់បង្ហូរនៅជើងជើង។ ធ្វើឱ្យធូលីដីកាកសំណល់អាហារកាកសំណល់អាហារស្លឹកកដាសកំណាត់ថ្មកំប៉ុង ចិញ្ចើមផ្លូវ, ចិញ្ចើមផ្លូវ, ការបញ្ជាក់ស្តង់ដារនៃក្រុង នាយកដ្ឋានការងារសាធារណៈនិងទីប្រជុំជន នាយកដ្ឋានផ្លូវជនបទ អាជ្ញាធរលំនៅដ្ឋានជាតិ អាជ្ញាធរផ្លូវហាយវ៉េនៃប្រទេសថៃ

---

Top Sell #3 SD22: សូមថ្លែងអំណរគុណ 15x40cm.
Size 15x40cm. Mesh 3.3x12cm. Thick 1cm. W:2kg
Side Curbed Drainage Driveway Grating Trench basin Dust screen side traffic road highway


ជូត Sieve, បំបែកកាកសំណល់កាកសំណល់ចូលទៅក្នុងបំពង់បង្ហូរនៅជើងជើង។ ធ្វើឱ្យធូលីដីកាកសំណល់អាហារកាកសំណល់អាហារស្លឹកកដាសកំណាត់ថ្មកំប៉ុង ចិញ្ចើមផ្លូវ, ចិញ្ចើមផ្លូវ, ការបញ្ជាក់ស្តង់ដារនៃក្រុង នាយកដ្ឋានការងារសាធារណៈនិងទីប្រជុំជន នាយកដ្ឋានផ្លូវជនបទ អាជ្ញាធរលំនៅដ្ឋានជាតិ អាជ្ញាធរផ្លូវហាយវ៉េនៃប្រទេសថៃ

---

SD23: Curbed Drainage Grates Scupper ធុងសំរាមនៅក្នុងថ្មដែលនៅជិតផ្លូវដើរ។
Size 15x50cm. Mesh 3.3×12 cm. Thick 1 cm. Weight 2.4kg
Side Curbed Drainage Driveway Grating Trench basin Dust screen side traffic road highway

រាំងស្ទះ Drainage Grating Scupper ធ្វើពីដែកសុទ្ធ។ ជូត Sieve, បំបែកកាកសំណល់កាកសំណល់ចូលទៅក្នុងបំពង់បង្ហូរនៅជើងជើង។ ធ្វើឱ្យធូលីដីកាកសំណល់អាហារកាកសំណល់អាហារស្លឹកកដាសកំណាត់ថ្មកំប៉ុង ចិញ្ចើមផ្លូវ, ចិញ្ចើមផ្លូវ, ការបញ្ជាក់ស្តង់ដារនៃក្រុង នាយកដ្ឋានការងារសាធារណៈនិងទីប្រជុំជន នាយកដ្ឋានផ្លូវជនបទ អាជ្ញាធរលំនៅដ្ឋានជាតិ អាជ្ញាធរផ្លូវហាយវ៉េនៃប្រទេសថៃ

---

SD24: Curbed Drainage Grates Scupper ធុងសំរាមនៅក្នុងថ្មដែលនៅជិតផ្លូវដើរ។
Size 15x60cm. Mesh 4×14 cm. Thick 2 cm. Weight 4.2 kg
Side Curbed Drainage Driveway Grating Trench basin Dust screen side traffic road highway

ធ្វើពីដែកសុទ្ធ។ ជូត Sieve, បំបែកកាកសំណល់កាកសំណល់ចូលទៅក្នុងបំពង់បង្ហូរនៅជើងជើង។ ធ្វើឱ្យធូលីដីកាកសំណល់អាហារកាកសំណល់អាហារស្លឹកកដាសកំណាត់ថ្មកំប៉ុង ចិញ្ចើមផ្លូវ, ចិញ្ចើមផ្លូវ, ការបញ្ជាក់ស្តង់ដារនៃក្រុង នាយកដ្ឋានការងារសាធារណៈនិងទីប្រជុំជន នាយកដ្ឋានផ្លូវជនបទ អាជ្ញាធរលំនៅដ្ឋានជាតិ អាជ្ញាធរផ្លូវហាយវ៉េនៃប្រទេសថៃ

---

SD25: Curbed Drainage Grates Scupper ធុងសំរាមនៅក្នុងថ្មដែលនៅជិតផ្លូវដើរ។
Size 15x70cm. Mesh 4×14 cm. Thick 2 cm. Weight 5 kg
Side Curbed Drainage Driveway Grating Trench basin Dust screen side traffic road highway

រាំងស្ទះ Drainage Grating Scupper ធ្វើពីដែកសុទ្ធ។ ជូត Sieve, បំបែកកាកសំណល់កាកសំណល់ចូលទៅក្នុងបំពង់បង្ហូរនៅជើងជើង។ ធ្វើឱ្យធូលីដីកាកសំណល់អាហារកាកសំណល់អាហារស្លឹកកដាសកំណាត់ថ្មកំប៉ុង ចិញ្ចើមផ្លូវ, ចិញ្ចើមផ្លូវ, ការបញ្ជាក់ស្តង់ដារនៃក្រុង នាយកដ្ឋានការងារសាធារណៈនិងទីប្រជុំជន នាយកដ្ឋានផ្លូវជនបទ អាជ្ញាធរលំនៅដ្ឋានជាតិ អាជ្ញាធរផ្លូវហាយវ៉េនៃប្រទេសថៃ

---

SD31: Curbed Drainage Grates Scupper ធុងសំរាមនៅក្នុងថ្មដែលនៅជិតផ្លូវដើរ។
Size 20x57cm. Mesh 3.5×15 cm. Thick 2 cm. Weight 4.6 kg
Side Curbed Drainage Driveway Grating Trench basin Dust screen side traffic road highway

ធ្វើពីដែកសុទ្ធ។ ជូត Sieve, បំបែកកាកសំណល់កាកសំណល់ចូលទៅក្នុងបំពង់បង្ហូរនៅជើងជើង។ ធ្វើឱ្យធូលីដីកាកសំណល់អាហារកាកសំណល់អាហារស្លឹកកដាសកំណាត់ថ្មកំប៉ុង ចិញ្ចើមផ្លូវ, ចិញ្ចើមផ្លូវ, ការបញ្ជាក់ស្តង់ដារនៃក្រុង នាយកដ្ឋានការងារសាធារណៈនិងទីប្រជុំជន នាយកដ្ឋានផ្លូវជនបទ អាជ្ញាធរលំនៅដ្ឋានជាតិ អាជ្ញាធរផ្លូវហាយវ៉េនៃប្រទេសថៃ

---

SD41: Curbed Drainage Grates Scupper ធុងសំរាមនៅក្នុងថ្មដែលនៅជិតផ្លូវដើរ។
Size 25x50cm. Mesh 4×23 cm. Thick 2 cm. Weight 6.5kg
Side Curbed Drainage Driveway Grating Trench basin Dust screen side traffic road highway

រាំងស្ទះ Drainage Grating Scupper ធ្វើពីដែកសុទ្ធ។ ជូត Sieve, បំបែកកាកសំណល់កាកសំណល់ចូលទៅក្នុងបំពង់បង្ហូរនៅជើងជើង។ ធ្វើឱ្យធូលីដីកាកសំណល់អាហារកាកសំណល់អាហារស្លឹកកដាសកំណាត់ថ្មកំប៉ុង ចិញ្ចើមផ្លូវ, ចិញ្ចើមផ្លូវ, ការបញ្ជាក់ស្តង់ដារនៃក្រុង នាយកដ្ឋានការងារសាធារណៈនិងទីប្រជុំជន នាយកដ្ឋានផ្លូវជនបទ អាជ្ញាធរលំនៅដ្ឋានជាតិ អាជ្ញាធរផ្លូវហាយវ៉េនៃប្រទេសថៃ

---

SD42: Curbed Drainage Grates Scupper ធុងសំរាមនៅក្នុងថ្មដែលនៅជិតផ្លូវដើរ។
Size 25x70cm. Mesh 4×23 cm. Thick 2 cm. Weight 8.8kg
Side Curbed Drainage Driveway Grating Trench basin Dust screen side traffic road highway

ធ្វើពីដែកសុទ្ធ។ ជូត Sieve, បំបែកកាកសំណល់កាកសំណល់ចូលទៅក្នុងបំពង់បង្ហូរនៅជើងជើង។ ធ្វើឱ្យធូលីដីកាកសំណល់អាហារកាកសំណល់អាហារស្លឹកកដាសកំណាត់ថ្មកំប៉ុង ចិញ្ចើមផ្លូវ, ចិញ្ចើមផ្លូវ, ការបញ្ជាក់ស្តង់ដារនៃក្រុង នាយកដ្ឋានការងារសាធារណៈនិងទីប្រជុំជន នាយកដ្ឋានផ្លូវជនបទ អាជ្ញាធរលំនៅដ្ឋានជាតិ អាជ្ញាធរផ្លូវហាយវ៉េនៃប្រទេសថៃ

---

SD43: Curbed Drainage Grates Scupper ធុងសំរាមនៅក្នុងថ្មដែលនៅជិតផ្លូវដើរ។
Size 25x90cm. Mesh 4×23 cm. Thick 20 mm. Weight 9.5kg
Side Curbed Drainage Driveway Grating Trench basin Dust screen side traffic road highway

រាំងស្ទះ Drainage Grating Scupper ធ្វើពីដែកសុទ្ធ។ ជូត Sieve, បំបែកកាកសំណល់កាកសំណល់ចូលទៅក្នុងបំពង់បង្ហូរនៅជើងជើង។ ធ្វើឱ្យធូលីដីកាកសំណល់អាហារកាកសំណល់អាហារស្លឹកកដាសកំណាត់ថ្មកំប៉ុង ចិញ្ចើមផ្លូវ, ចិញ្ចើមផ្លូវ, ការបញ្ជាក់ស្តង់ដារនៃក្រុង នាយកដ្ឋានការងារសាធារណៈនិងទីប្រជុំជន នាយកដ្ឋានផ្លូវជនបទ អាជ្ញាធរលំនៅដ្ឋានជាតិ អាជ្ញាធរផ្លូវហាយវ៉េនៃប្រទេសថៃ

---

Side Curbed Drainage Driveway Grating (ធុងសំរាមបន្ថែម)
Size : 180 x 525 x 180 mm. (Wide x Length x Hight) Thick 35 mm.
Side Curbed Drainage Driveway Grating Trench basin Dust screen side traffic road highway

ធូលីអេក្រង់ធូលីធុងសំរាម, ធុងសំរាម, ប្រអប់ថ្ម, សូមថ្លែងអំណរគុណយ៉ាងជ្រាលជ្រៅ, ទឹក weir, សូមថ្លែងអំណរគុណយ៉ាងជ្រាលជ្រៅ, អន្ទាក់, ដាច់ដោយឡែក, កំទេចកម្ទី, រសាត់, ធូលី, ម្ហូប, ស្លឹក, ក្រដាស, តាមស្តង់ដាររបស់សាលារាជធានី។ នាយកដ្ឋានការងារសាធារណៈនិងទីប្រជុំជន នាយកដ្ឋានផ្លូវជនបទ ទីក្រុងបាងកក

Curbed Drainage Grating Scupper ตะแกรงดักขยะฝุ่นผงคันหินใบไม้ด้านข้างริมฟุตบาท #ตะแกรงดักแยกขยะคันหินขอบฟุตบาทคสล #Trench Basin Scupper #Dust Screen Driveway Side Drainage Grating traffic road highway #Leaf Trapper Safe Scupper Drainage Traffic Grates along side of highway #Storm Curb Inlet Grating DrainBox Traffic Highway Side Drainage Trench Screen Grating ตะแกรงดักขยะผลิตจากเหล็กหล่อเหนียวพิเศษ (Casting Ductile Iron)
Curbed Drainage Grating Scupper Trapper Dust Scale Dirtage Grate Scrapper #Track Basin Scupper #Dust Screen Driveway Drainage Grate side of highway #Storm Curb Inlet Grating DrainBox Traffic Highway Side Drainage Trench Screen Grating Casting Ductile Iron is designed for use as The trash can separates the trash, the dust, the traps, the traps that are buried in the concrete. So water can drain down the side of the footpath. Design and manufacture of products according to the standards of the specifications of the municipality of Bangkok, Department of Public Works and Town Planning. Department of Rural Roads National Housing Authority Expressway Authority of Thailand
ออกแบบเพื่อใช้เป็น ตะแกรงดักแยกเศษขยะฝุ่นผง ดักใบไม้ เป็นตะแกรงที่ถูกฝังไว้ในคันหินคอนกรีตเสริมแรงคสล. เพื่อให้น้ำสามารถระบายลงด้านข้างริมฟุตบาท ออกแบบและผลิตชิ้นงานได้ตามมาตรฐานสเปคตามมาตรฐานของเทศบาล กทม. กรมโยธาธิการและผังเมือง กรมทางหลวงชนบท การเคหะแห่งชาติ การทางพิเศษแห่งประเทศไทย

ใบเสนอราคา ตะแกรงดักขยะฝุ่นผงคันหินใบไม้ด้านข้างริมฟุตบาท <– Click ! ดาวน์โหลดโบรชัวร์ 
Casting Ductile Iron Drive Way Curbed Scupper Drainage Grating Quotation


** ราคาที่นำเสนอข้างต้น ยังไม่รวมภาษีมูลค่าเพิ่ม และค่าจัดส่ง (เป็นราคามารับเองที่โรงงาน) | Price excluded VAT and Delivery 




---

Curbed Drainage Grates Scupper Specification
ขนาดและรายละเอียดสินค้า ตะแกรงดักแยกขยะในคันหินฟุตบาท

SD11: Curbed Drainage Grates Scupper ตะแกรงดักแยกขยะในคันหินข้างริมฟุตบาท
Size 10x30cm. Mesh 1.50x8cm. Thick 1cm. W:1.5kg

Side Curbed Drainage Driveway Grating Trench basin Dust screen side traffic road highway

Curbed Drainage Grating Scupper Made of sticky cast iron. Wipe the sieve, separate the waste debris into the drain at the foot of the foot. Trash dust, sludge, food waste, paper leaves, stone rods, grate boxes Sidewalk, sidewalk, standard specification of the municipality Department of Public Works and Town Planning Department of Rural Roads National Housing Authority Expressway Authority of Thailand
Curbed Drainage Grating Scupper ตะแกรงดักขยะฝุ่นผงคันหินใบไม้ด้านข้างริมฟุตบาท ผลิตจากเหล็กหล่อเหนียว ฝายตะแกรงหวีดักแยกเศษขยะลอยใส่ช่องระบายน้ำตรงขอบฟุตบาท ดักฝุ่นผงตะกอนขยะ เศษอาหาร ใบไม้ กระดาษ คันหินกล่องช่องตะแกรงรับน้ำ รางยูด้านข้างริมฟุตบาท, สเปคตามมาตรฐานของเทศบาล กรมโยธาธิการและผังเมือง กรมทางหลวงชนบท การเคหะแห่งชาติ การทางพิเศษแห่งประเทศไทย

---

Top Sell #1 SD12: ตะแกรงดักขยะคันหิน ขนาด 10x40cm.
Size 10x40cm. Mesh 2.50x8cm. Thick 1cm. W:1.5kg
Side Curbed Drainage Driveway Grating Trench basin Dust screen side traffic road highway


Wipe the sieve, separate the waste debris into the drain at the foot of the foot. Trash dust, sludge, food waste, paper leaves, stone rods, grate boxes Sidewalk, sidewalk, standard specification of the municipality Department of Public Works and Town Planning Department of Rural Roads National Housing Authority Expressway Authority of Thailand
ฝายตะแกรงหวีดักแยกเศษขยะลอยใส่ช่องระบายน้ำตรงขอบฟุตบาท ดักฝุ่นผงตะกอนขยะ เศษอาหาร ใบไม้ กระดาษ คันหินกล่องช่องตะแกรงรับน้ำ รางยูด้านข้างริมฟุตบาท, สเปคตามมาตรฐานของเทศบาล กรมโยธาธิการและผังเมือง กรมทางหลวงชนบท การเคหะแห่งชาติ การทางพิเศษแห่งประเทศไทย

---

Top Sell #2 SD21: ตะแกรงดักขยะคันหิน ขนาด 15x30cm.
Size 15x30cm. Mesh 3x10cm. Thick 1.50cm. W:1.7kg
Side Curbed Drainage Driveway Grating Trench basin Dust screen side traffic road highway


Curbed Drainage Grating Scupper Wipe the sieve, separate the waste debris into the drain at the foot of the foot. Trash dust, sludge, food waste, paper leaves, stone rods, grate boxes Sidewalk, sidewalk, standard specification of the municipality Department of Public Works and Town Planning Department of Rural Roads National Housing Authority Expressway Authority of Thailand
Curbed Drainage Grating Scupper ตะแกรงดักขยะฝุ่นผงคันหินใบไม้ด้านข้างริมฟุตบาท ฝายตะแกรงหวีดักแยกเศษขยะลอยใส่ช่องระบายน้ำตรงขอบฟุตบาท ดักฝุ่นผงตะกอนขยะ เศษอาหาร ใบไม้ กระดาษ คันหินกล่องช่องตะแกรงรับน้ำ รางยูด้านข้างริมฟุตบาท, สเปคตามมาตรฐานของเทศบาล กรมโยธาธิการและผังเมือง กรมทางหลวงชนบท การเคหะแห่งชาติ การทางพิเศษแห่งประเทศไทย

---

Top Sell #3 SD22: ตะแกรงดักขยะคันหิน ขนาด 15x40cm.
Size 15x40cm. Mesh 3.3x12cm. Thick 1cm. W:2kg
Side Curbed Drainage Driveway Grating Trench basin Dust screen side traffic road highway


Wipe the sieve, separate the waste debris into the drain at the foot of the foot. Trash dust, sludge, food waste, paper leaves, stone rods, grate boxes Sidewalk, sidewalk, standard specification of the municipality Department of Public Works and Town Planning Department of Rural Roads National Housing Authority Expressway Authority of Thailand
ฝายตะแกรงหวีดักแยกเศษขยะลอยใส่ช่องระบายน้ำตรงขอบฟุตบาท ดักฝุ่นผงตะกอนขยะ เศษอาหาร ใบไม้ กระดาษ คันหินกล่องช่องตะแกรงรับน้ำ รางยูด้านข้างริมฟุตบาท, สเปคตามมาตรฐานของเทศบาล กรมโยธาธิการและผังเมือง กรมทางหลวงชนบท การเคหะแห่งชาติ การทางพิเศษแห่งประเทศไทย

---

SD23: Curbed Drainage Grates Scupper ตะแกรงดักแยกขยะในคันหินข้างริมฟุตบาท
Size 15x50cm. Mesh 3.3×12 cm. Thick 1 cm. Weight 2.4kg
Side Curbed Drainage Driveway Grating Trench basin Dust screen side traffic road highway

Curbed Drainage Grating Scupper Made of sticky cast iron. Wipe the sieve, separate the waste debris into the drain at the foot of the foot. Trash dust, sludge, food waste, paper leaves, stone rods, grate boxes Sidewalk, sidewalk, standard specification of the municipality Department of Public Works and Town Planning Department of Rural Roads National Housing Authority Expressway Authority of Thailand
Curbed Drainage Grating Scupper ตะแกรงดักขยะฝุ่นผงคันหินใบไม้ด้านข้างริมฟุตบาท ผลิตจากเหล็กหล่อเหนียว ฝายตะแกรงหวีดักแยกเศษขยะลอยใส่ช่องระบายน้ำตรงขอบฟุตบาท ดักฝุ่นผงตะกอนขยะ เศษอาหาร ใบไม้ กระดาษ คันหินกล่องช่องตะแกรงรับน้ำ รางยูด้านข้างริมฟุตบาท, สเปคตามมาตรฐานของเทศบาล กรมโยธาธิการและผังเมือง กรมทางหลวงชนบท การเคหะแห่งชาติ การทางพิเศษแห่งประเทศไทย

---

SD24: Curbed Drainage Grates Scupper ตะแกรงดักแยกขยะในคันหินข้างริมฟุตบาท
Size 15x60cm. Mesh 4×14 cm. Thick 2 cm. Weight 4.2 kg
Side Curbed Drainage Driveway Grating Trench basin Dust screen side traffic road highway

Made of sticky cast iron. Wipe the sieve, separate the waste debris into the drain at the foot of the foot. Trash dust, sludge, food waste, paper leaves, stone rods, grate boxes Sidewalk, sidewalk, standard specification of the municipality Department of Public Works and Town Planning Department of Rural Roads National Housing Authority Expressway Authority of Thailand
ผลิตจากเหล็กหล่อเหนียว ฝายตะแกรงหวีดักแยกเศษขยะลอยใส่ช่องระบายน้ำตรงขอบฟุตบาท ดักฝุ่นผงตะกอนขยะ เศษอาหาร ใบไม้ กระดาษ คันหินกล่องช่องตะแกรงรับน้ำ รางยูด้านข้างริมฟุตบาท, สเปคตามมาตรฐานของเทศบาล กรมโยธาธิการและผังเมือง กรมทางหลวงชนบท การเคหะแห่งชาติ การทางพิเศษแห่งประเทศไทย

---

SD25: Curbed Drainage Grates Scupper ตะแกรงดักแยกขยะในคันหินข้างริมฟุตบาท
Size 15x70cm. Mesh 4×14 cm. Thick 2 cm. Weight 5 kg
Side Curbed Drainage Driveway Grating Trench basin Dust screen side traffic road highway

Curbed Drainage Grating Scupper Made of sticky cast iron. Wipe the sieve, separate the waste debris into the drain at the foot of the foot. Trash dust, sludge, food waste, paper leaves, stone rods, grate boxes Sidewalk, sidewalk, standard specification of the municipality Department of Public Works and Town Planning Department of Rural Roads National Housing Authority Expressway Authority of Thailand
Curbed Drainage Grating Scupper ตะแกรงดักขยะฝุ่นผงคันหินใบไม้ด้านข้างริมฟุตบาท ผลิตจากเหล็กหล่อเหนียว ฝายตะแกรงหวีดักแยกเศษขยะลอยใส่ช่องระบายน้ำตรงขอบฟุตบาท ดักฝุ่นผงตะกอนขยะ เศษอาหาร ใบไม้ กระดาษ คันหินกล่องช่องตะแกรงรับน้ำ รางยูด้านข้างริมฟุตบาท, สเปคตามมาตรฐานของเทศบาล กรมโยธาธิการและผังเมือง กรมทางหลวงชนบท การเคหะแห่งชาติ การทางพิเศษแห่งประเทศไทย

---

SD31: Curbed Drainage Grates Scupper ตะแกรงดักแยกขยะในคันหินข้างริมฟุตบาท
Size 20x57cm. Mesh 3.5×15 cm. Thick 2 cm. Weight 4.6 kg
Side Curbed Drainage Driveway Grating Trench basin Dust screen side traffic road highway

Made of sticky cast iron. Wipe the sieve, separate the waste debris into the drain at the foot of the foot. Trash dust, sludge, food waste, paper leaves, stone rods, grate boxes Sidewalk, sidewalk, standard specification of the municipality Department of Public Works and Town Planning Department of Rural Roads National Housing Authority Expressway Authority of Thailand
ผลิตจากเหล็กหล่อเหนียว ฝายตะแกรงหวีดักแยกเศษขยะลอยใส่ช่องระบายน้ำตรงขอบฟุตบาท ดักฝุ่นผงตะกอนขยะ เศษอาหาร ใบไม้ กระดาษ คันหินกล่องช่องตะแกรงรับน้ำ รางยูด้านข้างริมฟุตบาท, สเปคตามมาตรฐานของเทศบาล กรมโยธาธิการและผังเมือง กรมทางหลวงชนบท การเคหะแห่งชาติ การทางพิเศษแห่งประเทศไทย

---

SD41: Curbed Drainage Grates Scupper ตะแกรงดักแยกขยะในคันหินข้างริมฟุตบาท
Size 25x50cm. Mesh 4×23 cm. Thick 2 cm. Weight 6.5kg
Side Curbed Drainage Driveway Grating Trench basin Dust screen side traffic road highway

Curbed Drainage Grating Scupper Made of sticky cast iron. Wipe the sieve, separate the waste debris into the drain at the foot of the foot. Trash dust, sludge, food waste, paper leaves, stone rods, grate boxes Sidewalk, sidewalk, standard specification of the municipality Department of Public Works and Town Planning Department of Rural Roads National Housing Authority Expressway Authority of Thailand
Curbed Drainage Grating Scupper ตะแกรงดักขยะฝุ่นผงคันหินใบไม้ด้านข้างริมฟุตบาท ผลิตจากเหล็กหล่อเหนียว ฝายตะแกรงหวีดักแยกเศษขยะลอยใส่ช่องระบายน้ำตรงขอบฟุตบาท ดักฝุ่นผงตะกอนขยะ เศษอาหาร ใบไม้ กระดาษ คันหินกล่องช่องตะแกรงรับน้ำ รางยูด้านข้างริมฟุตบาท, สเปคตามมาตรฐานของเทศบาล กรมโยธาธิการและผังเมือง กรมทางหลวงชนบท การเคหะแห่งชาติ การทางพิเศษแห่งประเทศไทย

---

SD42: Curbed Drainage Grates Scupper ตะแกรงดักแยกขยะในคันหินข้างริมฟุตบาท
Size 25x70cm. Mesh 4×23 cm. Thick 2 cm. Weight 8.8kg
Side Curbed Drainage Driveway Grating Trench basin Dust screen side traffic road highway

Made of sticky cast iron. Wipe the sieve, separate the waste debris into the drain at the foot of the foot. Trash dust, sludge, food waste, paper leaves, stone rods, grate boxes Sidewalk, sidewalk, standard specification of the municipality Department of Public Works and Town Planning Department of Rural Roads National Housing Authority Expressway Authority of Thailand
ผลิตจากเหล็กหล่อเหนียว ฝายตะแกรงหวีดักแยกเศษขยะลอยใส่ช่องระบายน้ำตรงขอบฟุตบาท ดักฝุ่นผงตะกอนขยะ เศษอาหาร ใบไม้ กระดาษ คันหินกล่องช่องตะแกรงรับน้ำ รางยูด้านข้างริมฟุตบาท, สเปคตามมาตรฐานของเทศบาล กรมโยธาธิการและผังเมือง กรมทางหลวงชนบท การเคหะแห่งชาติ การทางพิเศษแห่งประเทศไทย

---

SD43: Curbed Drainage Grates Scupper ตะแกรงดักแยกขยะในคันหินข้างริมฟุตบาท
Size 25x90cm. Mesh 4×23 cm. Thick 20 mm. Weight 9.5kg
Side Curbed Drainage Driveway Grating Trench basin Dust screen side traffic road highway

Curbed Drainage Grating Scupper Made of sticky cast iron. Wipe the sieve, separate the waste debris into the drain at the foot of the foot. Trash dust, sludge, food waste, paper leaves, stone rods, grate boxes Sidewalk, sidewalk, standard specification of the municipality Department of Public Works and Town Planning Department of Rural Roads National Housing Authority Expressway Authority of Thailand
Curbed Drainage Grating Scupper ตะแกรงดักขยะฝุ่นผงคันหินใบไม้ด้านข้างริมฟุตบาท ผลิตจากเหล็กหล่อเหนียว ฝายตะแกรงหวีดักแยกเศษขยะลอยใส่ช่องระบายน้ำตรงขอบฟุตบาท ดักฝุ่นผงตะกอนขยะ เศษอาหาร ใบไม้ กระดาษ คันหินกล่องช่องตะแกรงรับน้ำ รางยูด้านข้างริมฟุตบาท, สเปคตามมาตรฐานของเทศบาล กรมโยธาธิการและผังเมือง กรมทางหลวงชนบท การเคหะแห่งชาติ การทางพิเศษแห่งประเทศไทย

---

Side Curbed Drainage Driveway Grating (ตะแกรงดักขยะรุ่นหนาพิเศษ)
Size : 180 x 525 x 180 mm. (Wide x Length x Hight) Thick 35 mm.
Side Curbed Drainage Driveway Grating Trench basin Dust screen side traffic road highway

Dust Screen Driveway Grating, trash, stone, box, grate, water, weir, grate, trap, separate, debris, drift, dust, food, leaves, paper, By the standards of the municipality. Department of Public Works and Town Planning Department of Rural Roads Bangkok
Dust Screen Driveway Grating ตะแกรงดักขยะคันหินกล่องช่องตะแกรงรับน้ำฝายตะแกรงหวีดักแยกเศษขยะลอย ฝุ่นผง เศษอาหาร ใบไม้ กระดาษ คันหิน รางยูด้านข้างริมฟุตบาท ตามมาตรฐานของเทศบาล กรมโยธาธิการและผังเมือง กรมทางหลวงชนบท กรุงเทพมหานคร

---

Side Curbed Drainage Driveway Grating Trench basin Dust screen side traffic road highway ធុងសំរាមនៅក្នុងថ្មដែលនៅជិតផ្លូវដើរ។



"Rainer Shooter" ត្រូវបានរចនាឡើងសម្រាប់ទឹកភ្លៀងដែលបានចូលទៅក្នុងផ្លូវបង្ហូរទឹកនិងទឹកហូរលើផ្ទៃ។ ដើម្បីសម្រួលដល់ការបង្ហូរទឹកភ្លៀងយ៉ាងឆាប់រហ័សការបើកចំហត្រូវបានដាក់នៅផ្នែកខាងនិងផ្នែកខាងលើ។ អ្នកជំនាញពិសេស:
យើងដឹកជញ្ជូនដំបូលគ្រប់ដំបូលច្រកដំបូលប្រឡោះហូរហៀរបង្ហូរទឹកអណ្តូងលូបង្ហូរទឹករានហាលរនាបបង្ហូរទឹកបង្ហូរទឹកបំពង់ស្រទាប់សម្ភារៈដំបូលនិងលាមកសម្អាតក៏ដូចជាដំបូលប្រដាប់ជំនួសដំបូល។ ដំណោះស្រាយបង្ហូរទឹករបស់យើងរួមបញ្ចូលទាំងការលិចទឹកពាណិជ្ជកម្មនិងលំនៅដ្ឋាន។ មិនថាអ្នកត្រូវការដំបូលឬដំបូលសម្រាប់ការសាងសង់ថ្មីឬជួសជុលយើងមានអ្វីដែលអ្នកត្រូវការ។ តើធ្វើដូចម្តេចដើម្បីទំហំបំពង់បង្ហូរ។
ទាំងការដាក់និងជំរើសនៃការបង្ហូរទឹកនៅតាមមហាវិថីគឺជាបញ្ហាសម្រាប់អ្នកជិះកង់។ ផ្លូវហាយវ៉េ – ផ្លូវបង្ហូរទឹកដែលគ្របដណ្តប់ដោយលោហៈដែកបើកចំហដែលមានទីតាំងស្ថិតនៅគែមផ្លូវ – គឺជាក្តីបារម្ភចម្បងចំពោះសុវត្ថិភាពរបស់អ្នកជិះកង់។ នៅលើផ្លូវសមុទ្រទៅមេឃខាសលលោហៈធាតុរាវដែលមានរាងដូចដែកមានដំណើរការដូចគ្នាឬទិសស្រដៀងគ្នានៃកង់ឡានកង់ជាជាងកាត់កែង។ គួបផ្សំជាមួយគម្លាតរវាងក្រឡាចត្រង្គដែលលើសពីទទឹងកង់ម៉ូតូទូទៅវាមាននូវប្រូបាប៊ីលីតេខ្ពស់ដែលចាប់បានក្រឡាចត្រង្គខណៈពេលឆ្លងកាត់អ័ក្ស។ លើសពីនេះទៀតការដាក់ជាទូទៅរបស់ពួកគេនៅក្នុងស្មារួមចំណែកដល់ការកាត់បន្ថយនូវទំហំនៃស្មាដ៏មានប្រសិទ្ធិភាព។ គ្រោះថ្នាក់ដែលពាក់ព័ន្ធនឹងប្រព័ន្ធបង្ហូរទឹកនៅតាមផ្លូវត្រូវបានកើនឡើងដោយសញ្ញាសម្គាល់គ្រោះថ្នាក់: មានមនុស្សតិចតួចដែលមានផ្លាកសញ្ញាព្រមានខណៈពេលដែលសញ្ញាសម្គាល់ត្រូវបានគេពាក់យ៉ាងធ្ងន់ធ្ងរ។ Scuppers – ការបើកនៅក្នុងឧបសគ្គបេតុងដើម្បីបង្ហូរទឹក – ត្រូវបានរកឃើញនៅតាមបណ្តោយផ្លូវហាយវេផងដែរនិងមិនបង្កឱ្យមានការគំរាមកំហែងដល់អ្នកជិះកង់ទេ។ ការប្រើប្រាស់របស់ពួកគេលើផ្លូវហាយវេគួរតែជាស្តង់ដារលើកលែងតែស្ថានភាពផ្លូវនិងបទបញ្ជាមិនអនុញ្ញាតឱ្យប្រើប្រាស់។ កន្លែងដែលមិនអាចប្រើកាកសំណល់បានទេការលាងសម្អាត "ជិះកង់សុវត្ថិភាព" គឺជាការជំនួសដ៏សមស្របមួយដែលត្រូវនឹងបទបញ្ជាផ្លូវ។


---

---
ការស្នើសុំដើម្បីញែកសំរាមធូលីនិងដុំថ្មនៅតាមផ្លូវ។ Specification Roadside along side Highway Drainage Cover Grating System
ជូត Sieve, បំបែកកាកសំណល់កាកសំណល់ចូលទៅក្នុងបំពង់បង្ហូរនៅជើងជើង។ ធ្វើឱ្យធូលីដីកាកសំណល់អាហារកាកសំណល់អាហារស្លឹកកដាសកំណាត់ថ្មកំប៉ុង ដាននៅលើចំហៀងនៃផ្លូវនេះ។ ផលិតនិងរៀបចំលក្ខណៈពិសេសយោងទៅតាមស្តង់ដារក្រុង។ នាយកដ្ឋានការងារសាធារណៈនិងទីប្រជុំជន នាយកដ្ឋានផ្លូវជនបទ អាជ្ញាធរលំនៅដ្ឋានជាតិ ផ្លូវបង្ហូរទឹកហូរបញ្ចូនអ័រលូរនៅជិតជើងទឹកកណ្តាលអណ្តើកចង្ក្រានស្កាយស្កេបស្កេតស្ទ្រីមអឹមអឹម

  មានទីតាំងស្ថិតនៅលើការទប់ស្កាត់និងឆានែលដើម្បីចាប់យកទឹកជំនន់ពីផ្ទៃផ្លូវ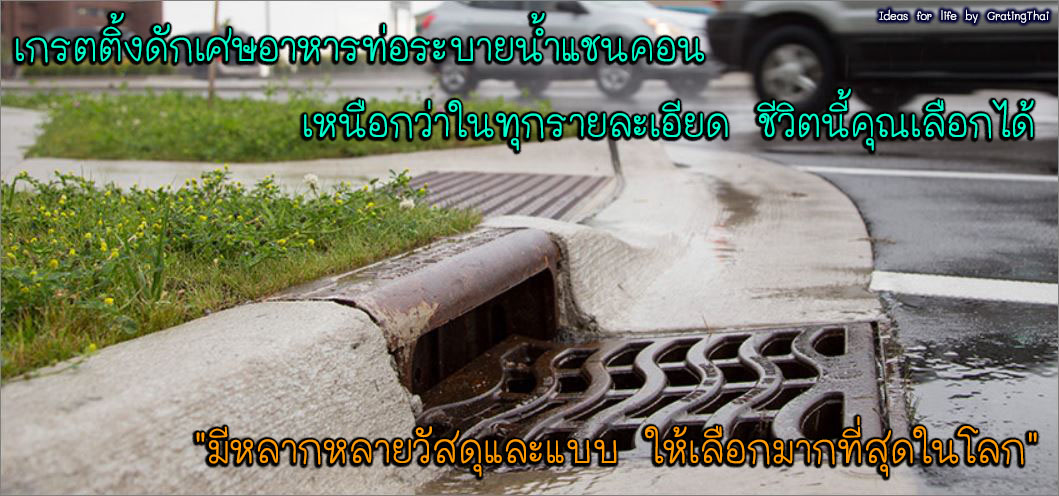 នៅពេលវាមានភ្លៀងទឹកហូរចេញពីផ្លូវរថយន្តចំណតផ្ទះដំបូលផ្ទះនិងផ្ទៃផ្សេងទៀតចូលទៅក្នុងផ្លូវទឹកដែលនៅជិតបំផុត។ នេះអាចត្រូវបានកំណត់ថាជាទឹកជំនន់។ ទឹកហូរអាចឆាបឆេះតាមផ្លូវទឹកតាមបណ្តាញរឺបំពង់ទឹក។ តំបន់ទីប្រជុំជនភាគច្រើនមានប្រព័ន្ធបង្ហូរទឹកដែលមានចំណុចចូលទៅបំពង់ដើម្បីបង្ហូរទឹកភ្លៀង។ នៅតំបន់ទីប្រជុំជនមួយចំនួនជាពិសេសនៅតាមទីជនបទអាចនឹងគ្មានហេដ្ឋារចនាសម្ព័ន្ធនិងទឹកហូរត្រូវបានបង្ហូរតាមរយៈបំពង់ទឹក។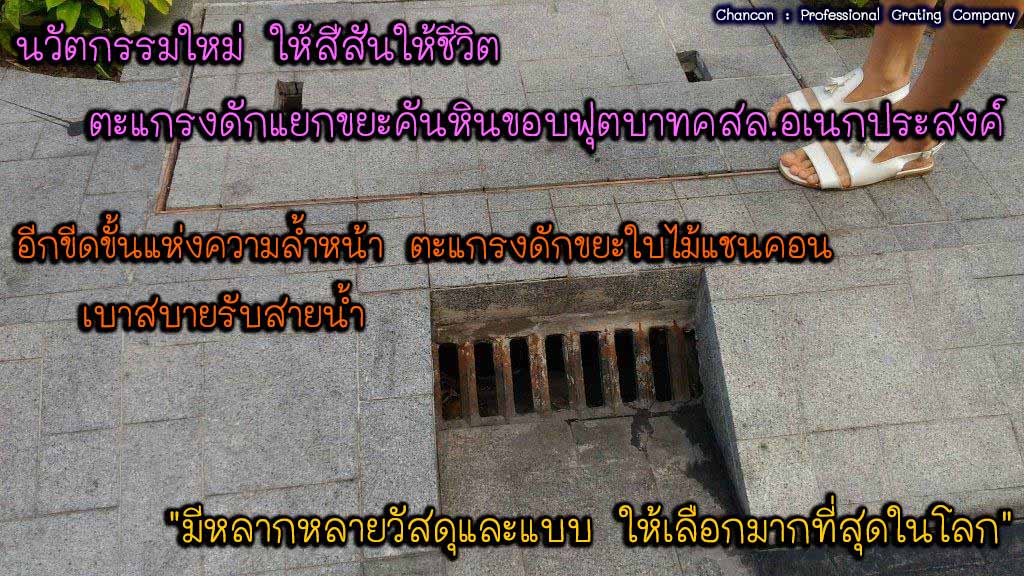 យើងវាយតម្លៃពីលទ្ធភាពនៃការធ្លាក់ភ្លៀងបែបនេះនៅក្នុងលក្ខខណ្ឌនៃអាំងតង់ស៊ីតេនិងថិរវេលាដែលបានកំណត់ទុកនិងបរិមាណនៃទឹកដែលអាចរំពឹងទុកបាន។ យើងប្រើព័ត៌មាននេះដើម្បីរៀបចំបំពង់បង្ហូរទឹកនិងបំពង់បង្ហូរទឹកដើម្បីដឹកជញ្ជូនតាមផ្លូវទឹកដែលសមស្របនៅជិតបំផុត។ ពីពេលមួយទៅពេលមួយព្រឹត្ដិការណ៍ទឹកភ្លៀងអាចធ្ងន់ធ្ងរនិងលើសសមត្ថភាពដែលមាននៃប្រព័ន្ធទឹកភ្លៀងរបស់យើង។
ការហូរចំហៀងផ្លូវទឹកឬប្រឡាយបង្ហូរទឹកផ្តល់នូវប្រព័ន្ធលូបង្ហូរទឹកនៅតាមតំបន់គ្រួសដូចជាចិញ្ចើមផ្លូវនិងកន្លែងចតយានយន្ត។ នៅពេលដែលចិញ្ចើមផ្លូវរត់ជាមួយអគារមួយប្រព័ន្ធបង្ហូរទឹកលីនេអ៊ែរអាចត្រូវបានគេតម្រូវឱ្យបង្ហូរទឹកពីដំបូលពីផ្លូវក្រោមដីខណៈពេលទទួលយកលំហូរសន្លឹកពីផ្លូវដែក។ ទឹកហូរចំហៀងត្រូវបានគេប្រើជាមួយនឹងស្បែកជើងកកចុះក្រោមដើម្បីធានាឱ្យមានផ្ទៃថ្មើរជើងនិងទឹកហូរចុះឡើង។ យើងផ្តល់ជូននូវការលាងសំអាតចិញ្ចើមផ្លូវដែកលាយជាមួយនឹងការតុបតែងប្រកបដោយសុវត្ថិភាពនិងតុបតែងផ្សេងៗសម្រាប់អ្នកថ្មើរជើង។ ជម្រើសស៊ុមច្រើនរួមទាំងម៉ូដែលចោរកម្មលួចកណ្តាលចាក់សោត្រូវបានផ្តល់ជូនដើម្បីបំពេញតាមតម្រូវការជាក់លាក់របស់តំបន់។ ការតំឡើងសន្និបាតចំហៀងអាចរកបានជាមួយនឹងចរាចរដែលមានអត្រាកំណត់ក៏ដូចជាក្រឡាចត្រង្គសុវត្ថិភាពសម្រាប់អ្នកថ្មើរជើងមានលក្ខណៈស្តង់ដារជាច្រើនសម្រាប់កម្មវិធីដែលមានចាប់ពីប្រព័ន្ធហេដ្ឋារចនាសម្ព័ន្ធបៃតងដល់ប្រព័ន្ធបង្ហូរទឹក។
---
GFRP-ដែក-ប្លាស្ទិច-PPABS ហែលទឹកបារដែក weld លើសចំណុះសូមថ្លែងអំណរគុណយ៉ាងជ្រាលជ្រៅ / សំឡីកែវសមាសភាព Casting ductile ដែក manholes ក្របគម្របស្រះទឹករឹងចេញពីបំពង់លូទឹក CAP បានមួកបំពង់ prefabricated បុរសរន្ធសូមថ្លែងអំណរគុណយ៉ាងជ្រាលជ្រៅ / ឧបករណ៍ទម្រដែលភ្ជាប់កែបជួសជុលឈុត។ មានការគៀបចាក់សោរឹរឹរបារដែកសូមថ្លែងអំណរគុណយ៉ាងជ្រាលជ្រៅ / ទប់ស្កាត់ការបង្ហូរទឹក grating Scupper / ជណ្ដើរ Tread ច្រមុះ / ធ្លាយដាក់ Hook pegboard កញ្ចប់ឧបករណ៍ផ្ទុកស្ដុក DIY: grating កញ្ចក់ជាតិសរសៃបង្ហូរលើសចំណុះប្លាស្ទិចជុំវិញគែមនៃអាងនេះ។ ដែកដែលធ្វើពីជ័រដែលធន់នឹងសំណឹក អន្ទាក់សំរាមសំរាមដែលបង្កប់នៅលើថ្ម។ គម្របរឹង, គម្របសូលីត, ដែកលាយ, ស្អិត planks ជាន់ Hooks Hooks Panels Panels Panels Panels ជញ្ជាំងជញ្ជាំងជញ្ជាំងជញ្ជាំងឧបករណ៍ប្រើប្រាស់ដៃ
ទំព័រដើមនៃ Chancon-GratingThai | ទំព័រដើម >> ក្រុមហ៊ុនស៊ីនតុន – បាចប្រទេសថៃ
ទាក់ទងនិងព័ត៌មាន || ទាក់ទងមកយើង
ក។ ទំនាក់ទំនងមកយើងខ្ញុំ: ទំនាក់ទំនងមកយើង ផែនទីភីកអាប់ ទទួលបានការផ្ដល់យោបល់ច្រើនទៀត។
ខ។ ថ្លៃតំលៃ – តំលៃតំលៃសំណើរតំលៃ – បញ្ចុះតំលៃ
គ។ យោងគំរោង: គំរូអតិថិជន កម្មវិធី របៀបទិញ
លក្ខណៈសម្បត្តិនៃកញ្ចក់ឃជាតិសរសៃនេះបំពេញបន្ថែមអាហារជ័រប្លាស្ទិចសំឡីកែវថ្នាក់ទី FRP ។
អ៊ីសេវាកម្មសូមថ្លែងអំណរគុណយ៉ាងជ្រាលជ្រៅ: ដើម្បីរចនា, ការផលិត, ការធ្វើតេស្តការដំឡើងកម្លាំង – សារធាតុគីមី។
F. អ្នកលក់ចង់បាន: ទទួលបានអ្នកចែកបៀ ការជ្រើសរើសបុគ្គលិក
Gully Grating || ភាពយន្តខ្សែកាបធ្វើពីដែកជុំវិញអាងហែលទឹក ធុងសំរាមជាប់នៅក្នុងដំបងថ្ម។
ប្លាស្ទិក PolyPropylene ប្លាស្ទិចស្អិត PP
ដែកធ្វើពីដែកធ្វើពីដែក សម្រាប់បំពង់បង្ហូរទឹក
3. FRP FiberGlass Mold Grating បង្ហូរទឹកស៊ីម៉ង់ត៍សូមថ្លែងអំណរគុណយ៉ាងជ្រាលជ្រៅ ក្បឿងជាន់ក្នុងរោងចក្រ
4. អាងហែលទឹកហែលទឹកហែលទឹក ABS
5. បើកឡានបណ្តែតទឹកជ្រលងដំបូលជ្រលងដំបូលចំហៀង
6. ការពារមែកធាងមែកធាងគម្របស៊ុមគម្របឈើការពារដើមឈើនៅជុំវិញ។ ទាំងពីររូបនិងការបញ្ចប់។
គ្របដណ្តប់លើស្រះបិទជិតគ្របដណ្តប់លើការព្យាបាលទឹកកខ្វក់។ ខាញ់ដែក គម្របឆានែល Fiber
7. គម្របគ្របដូង Manhole FRP, បំពង់បង្ហូរទឹកភ្នែក, សមាសធាតុជ័រ (មិនមានច្រេះ, កម្លាំងខ្ពស់, ដែកអ៊ីណុក)
ដាប់ធ័រដែកដាប់លីណែល (Manhole Cover) (រទេះ / រទេះ) រន្ធដាប់ធ័រដែកដាប់ប៊ឺណែល
9 ។ គម្របកំពូលពេជ្រ FRP (កាត់ពិសេស)
ផលិតផលដែលពាក់ព័ន្ធ គម្របស៊ីម៉ង់ត៍ Grip Lock Grip
10. អេក្រង់ក្រណាត់ស៊ុតក្រឡុកអេក្រង់អេក្រង់គ្របដណ្តប់ តម្រងខ្យល់
11. អំពូលភ្លើង Trellis Shades Grilles ជញ្ជាំងវាំងននជញ្ជាំង ភាគថាសឆ្លងដូរផ្លូវដែករបង។ blinds blinds
12. ឧបករណ៍បង្ហាញ PegBoard Hooks Shelves
13. FRP Stair Tread Nosing Step Cover Protector
14. HDG ដែកក្រវ៉ាត់ក្ដាប់បន្ទះក្តាប់ខ្ទាស់ខ្ទាស់ខាត់ក្តាប់បន្ទះក្តាប់ ដែកអ៊ីណុក / ដែកស័ង្កសី
ប្រព័ន្ធចងក្រងទម្រង់ការងារ: TieRod / ThreadBar WingNut WaterStopper